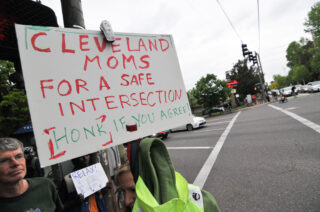 Today across America school students are walking out of class to bring attention to gun violence, the need for comprehensive reform of gun laws, and to say "Never again!" when it comes to school shootings.
Most Portland Public Schools administrators support the walkout. As a parent of kids in three PPS schools, we've gotten detailed emails and notices from each one in preparation of today's actions.
Last night I heard from a parent of a student at Cleveland High School that the email sent by Principal Ayesha Freeman included a strong warning about a major safety concern that has nothing to do with gun violence. Freeman shared four specific items in her email aimed at getting parents and students ready. One of them was about SE Powell Boulevard — the state-controlled arterial road that runs outside the school on its southern side.
Here's what Freeman wrote in her email:
I am asking that students do not stand along the Powell Blvd sidewalk due to the heavy traffic on Powell. I do not want any of our students to be hurt or injured as a result of the fast and heavy moving traffic on Powell. As you exit the building, please be mindful to exit along 26th, 28th, and Franklin. We will have staff members at 26th and 28th where those streets intersect with Powell to remind you to please not stand along Powell for your safety.
Keep in mind: Powell is always there and it's a constant threat to Cleveland students and anyone who visits the school.
As you recall, activists and parents of Cleveland High students have already been protesting the Oregon Department of Transportation's mismanagement of Powell and SE 26th (which also borders the school). That intersection has been a repeat location of traffic violence. And now, for reasons that defy explanation, ODOT wants to make 26th even more dangerous by forcing the City of Portland to remove an existing bike lane and make the street even wider for motor vehicle users.
"I know my kids and his friends are at greater risk from constant, heavy, fast vehicle traffic right next to their school."
— Carrie Leonard
It makes me wonder if Cleveland High parents — and parents from others schools across Portland — are more afraid of traffic violence than gun violence when they send their kids to school.
Carrie Leonard's son attends Cleveland. She's a longtime BikePortland reader, a daily bicycle rider, and an advocate for safer streets. I asked her what scares here more: traffic or guns?
"I know my kids and his friends are at greater risk from constant, heavy, fast vehicle traffic right next to their school," she replied. "I know I'm at greater risk every time I go to an activity at his school — just getting there — than I am for anything bad happening while I'm there." "But as a mom," she continued, "I'm more scared of guns, because it's so very much out of our control right now. Which I think also ties into my frustration with the vehicular traffic threat — there are known solutions and easy, quick fixes and I don't see anyone with the means to implement those fixes standing up to the car/freight lobby to put the community's lives ahead of 'the way we've always done it.'
"I want PBOT to stand up and say 'screw you' to ODOT and do the right thing for safety, in the face of ODOT's double-speak. I firmly believe that more guns are not the answer to gun violence and told my son that this walkout today may be the most important thing he's ever done as a student. But I believe my advocacy for the bike lane on 26th and traffic calming on Powell may be the most important thing I can do for the long term health of our community."
— Jonathan Maus: (503) 706-8804, @jonathan_maus on Twitter and jonathan@bikeportland.org
Never miss a story. Sign-up for the daily BP Headlines email.
BikePortland needs your support.