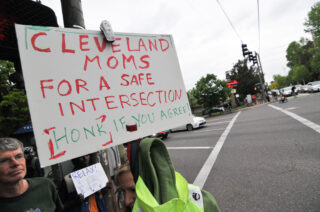 Today across America school students are walking out of class to bring attention to gun violence, the need for comprehensive reform of gun laws, and to say "Never again!" when it comes to school shootings.
Most Portland Public Schools administrators support the walkout. As a parent of kids in three PPS schools, we've gotten detailed emails and notices from each one in preparation of today's actions.
Last night I heard from a parent of a student at Cleveland High School that the email sent by Principal Ayesha Freeman included a strong warning about a major safety concern that has nothing to do with gun violence. Freeman shared four specific items in her email aimed at getting parents and students ready. One of them was about SE Powell Boulevard — the state-controlled arterial road that runs outside the school on its southern side.
Here's what Freeman wrote in her email: