To succeed as an industry cluster in Portland, bicycle companies must compete for the best talent. And that's no easy task in a town full of well-known names in the tech, fashion and outdoor industry.
To help raise the profile of bicycle-related careers, a group of local bike companies shared a booth at the NW Youth Careers Expo held at the Oregon Convention Center yesterday. The annual event hosts 6,500 students from 70 area high schools who get a chance to meet-and-greet with over 200 companies.
Under the rubric "Bikes Mean Business" (it was also on their custom lanyards, made by Chrome Industries), representatives from Chrome, River City Bicycles, and Chris King Precision Components spent their day talking to local teens about how their future could include a job in the bike industry.

"I wanted to let students know there are choices in the fields you love. I kept repeating, 'None of us work in a cubicle and we love going to work everyday!'"
— Lilly Hager, Chrome
The companies were brought together Chris DiStefano, the head of marketing and public affairs for River City Bicycles. DiStefano came to his current position from a long career in the bike industry that has included putting Portland's bike industry on the map with the U.S. Department of Commerce and taking the "bikes mean business" mantra into lobbying meetings on Capitol Hill.
Yesterday at the Career Expo, DiStefano said competition for attention was fierce. "Customized cars and trucks for filming, huge power line trucks, enormous airport fire trucks, plus police dogs. There was a lot to see," he said in a post-event debrief. To help break the ice with, DiStefano had the booth set-up with a bicycle on a trainer that was connected to an online cycling demo from Zwift. "We had kids riding throughout the day," DiStefano said, "They were excited to get on the bike and try to go fast and they came away laughing and sweating."
When the kids weren't pedaling, they could learn more about Portland's bike industry from: Jay SyCip, design manager at King Cycle Group (Chris King Precision Components and Cielo Cycles); Dan Steinle, marketing manager at Ruckus Composites; Lilly Hager and Tyda Chhaysy from the Portland Chrome Store; or Alex Criss, marketing and events manager at River City Bicycles. Even River City's owner Dave Guettler was on-hand to share his boundless enthusiasm for bicycles and the people who ride and work on them.
Expo attendees learned about bicycle and component manufacturing that happens right here in Portland. And for engineering-minded students, Dan from Ruckus brought a few cutaway samples of the carbon fiber frames they work on.
"Within the first hour we had several kids ask about internships and possible jobs at the shop," DiStefano said. "Far more kids than I'd expected were into bikes and knew about the companies we had on hand. None of the kids we talked to all day were aware how big the Portland bike business was and I think that impressed a lot of them, for sure."
Lilly Hager, manager of the Chrome Store downtown, said she wanted to be there to remind students that they don't have to settle for a boring job in a cubicle. "I got to thinking about what I thought my job prospects were as a high school student," she said, "I thought I would have to go to college and sit in an office or work in a factory — so I wanted to let students know there are choices in the fields you love. I kept repeating, 'None of us work in a cubicle and we love going to work everyday!'"
When one student mentioned he was a photographer, Hager was able to tell him that all the bike companies on hand need and use photographers. Other jobs in the local bike industry, she added, include: social media managers, product designers, fabricators, marketing, operations specialists, sewers and bag makers, teachers, retail sales and store management, mechanics, and so on.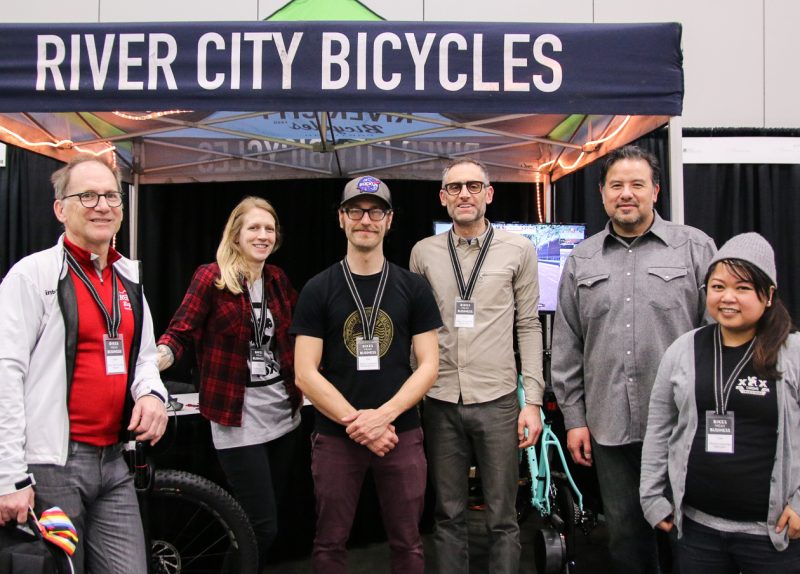 For DiStefano, the event went beyond merely finding talent to fill positions. "Our first priority was to promote bicycles to these kids and hopefully to do it in a way that makes bikes look cool and interesting. A lot of the students with whom we spoke don't ride very often or at all so to spend time talking with them about career options in the business was fun."
The Bikes Mean Business bloc will return to this event next year. I have a feeling they'll need a larger booth.
— Jonathan Maus: (503) 706-8804, @jonathan_maus on Twitter and jonathan@bikeportland.org
BikePortland is supported by the community (that means you!). Please become a subscriber or make a donation today.