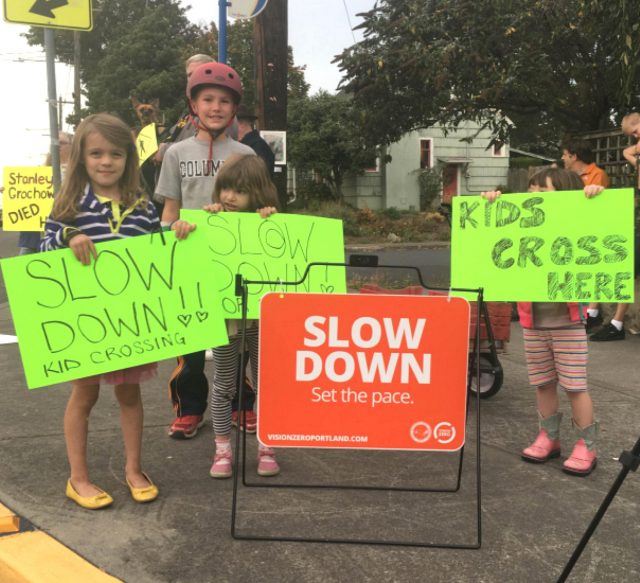 Everybody wants safer streets — but you wouldn't know that by reading local headlines or watching local news. That's because the media often frames street safety issues as being something that only "the bicyclists" want.
That framing leads to more clicks and comments, but it's not true. And it creates a road block to Portland's progress.

A recent opinion piece from well-known driving advocate Terry Parker published in The Oregonian turned a critique of vision zero policy (something that's not bike-centric at all) into a toxic, anti-bicycling screed. Responding to an article by Oregonian columnist Steve Duin (who doesn't think Portland's vision zero policies go far enough), Parker waded into his familiar territory of insulting "bicyclists" with falsehoods and making outlandish claims that "bicyclists don't pay" and that redesigning roads to include access for all users is "social engineering."
Coverage of the "Better Naito" project — that aimed to reconfigure Naito Parkway into a safer, more humane place with slower driving speeds and more room for walking and biking — was generally framed as a project for "bicyclists and pedestrians." Let's be clear: Better Naito is about a more livable and vibrant waterfront. When that street is finally tamed, everyone — business owners, nearby residents, employees, tourists, and all road users — will have a more pleasant experience, whether they're going through or to the area.
And the most recent example was a story that framed the need for lower neighborhood speed limits as something that only "cyclists want."
It's a weird phenomenon. It probably happens because there are a lot of people in this town who care deeply about bicycling and they tend to be good at making their voices heard (this blog plays a big role in that). It also has something to do with the lazy "us versus them" narrative that's so seductive to many editors and producers. If a story has a clear antagonist that is seen by the majority of the audience as an outsider or a threat to the status quo, it will get more editorial priority. That's just how the news business works. Unfortunately here in Portland, "those bicyclists" are too often that antagonist.
The problem is, this framing not only relies on a clumsy label (what the heck is a "cyclist" anyway?) to attempt to define a diverse and multi-faceted community, it also fails to tell the true story.
The truth is, Portlanders from every corner of the city and from every racial and economic background are clamoring for safer streets. Grieving moms and dads and friends and sisters and brothers and grandmas and grandpas are bravely speaking out to shake us out of our stupor and prevent their deep sense of loss from happening to others.
Did you see the heartbreaking testimony at City Council last month from Fallon Smart's mom Fawn Lengvenis? Fawn is not a "bicyclist".
Did you read about Wendy Rattel, the employee at a local preschool who laments the city's removal of an unsanctioned crosswalk because she's afraid for the safety of the children in her care? Wendy is not a "bicyclist".
Did you see the dozens of Arbor Lodge residents — young, old, rich, poor — who came out on a weeknight to hold a vigil for a man who was run over and killed by someone driving a car dangerously down their neighorhood street? None of them are "bicyclists".
Or maybe you've seen one of the hundreds of city-issued and home made signs scattered all over the city that say things like, "Slow down," "Kids playing," and "Drive like your kids live here." (The City of Portland tells us they've mailed out 710 of their road safety yard signs since 2006.) The people who erect these signs in their yards are not "bicyclists".
Portland is changing fast and our streets are a very visible — and visceral — part of that change. We must have some extremely important and difficult discussions ahead if we want to create a city where everyone — not just people using cars — has access to the basic mobility and freedom our streets were intended to provide. Those conversations will be easier and more productive when we finally move beyond unhelpful labels and framing.
— Jonathan Maus, (503) 706-8804 – jonathan@bikeportland.org
BikePortland is supported by the community (that means you!). Please become a subscriber or make a donation today.