An inner southeast Portland intersection is the latest front of a battle between transportation reform activists and the Portland Bureau of Transportation.
This time it's about a crosswalk. The activists (and many nearby residents) think one's needed, and PBOT thinks it isn't.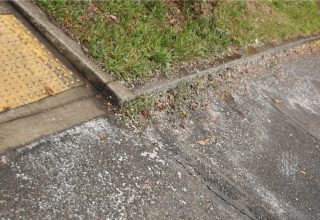 On September 13th, operatives from the anonymous group PDX Transformation (read our past coverage of them here and here) laid down a crosswalk on SE Clinton Street at 19th. It was done using white tape. Volunteers with the group said they did it in response to a request from a parent who has a child at the adjacent preschool. PBOT removed the crosswalk on Thursday. Then later that same night, PDX Transformation went back out to the intersection and re-installed the crosswalk with white paint. (Agents of the group told us they used paint the second time specifically to make it harder for PBOT to remove.)
It's important to note that SE 19th ends right into the New Day School, a preschool with about 70 students between the ages of two-and-a-half to five years old. New Day School Office Manager Wendy Rattel told me during my visit to the site today that when the unsanctioned crosswalk was first installed many parents got to school and we're relieved and excited to see it. "Wow, this is so fantastic, they were telling me."
Rattel had no idea the crosswalk was put in; but she too was happy about it. She said they've requested safety improvements here for many years.
"We have a lot of parents trying to cross Clinton with their children, and it's unsafe," she said.
Rattel said five years ago they made a formal request with PBOT for safety improvements. A city traffic analyst came out and performed some counts, but ultimately declined to take action because there wasn't enough daily traffic to warrant a crosswalk. Rattel said the problems of speeding and dangerous driving still exists. While recently installed diverters a few blocks down have helped, many people still speed drive too fast down Clinton to avoid stops on Division (a larger street one block north).
For their part, PBOT gets a lot of citizen requests for crosswalks. So many in fact, they have a page on their website that lists the steps they follow to determine if one is necessary. As you can see in the "Crosswalk guidelines" graphic below, having an average daily traffic above 4,000 vehicles per day is a pre-requisite for crosswalk installation.
The city also says on their website that, "As a general rule, PBOT does not mark crosswalks on low-volume, two-lane streets," because data shows that, "there is no safety benefit for crosswalk markings on this type of street."
Perhaps that explains the city's frustration with PDX Transformation at Clinton and 19th. According to Rattel, a city employee showed up two days ago and verbally berated a New Day School employee. "She yelled at one of our employees," Rattel said, "Asking, 'Where did it come from?' and 'Who did it?!'".
PDX Transformation doesn't appear to be done. In their minds, there's no excuse for not having a crosswalk at this location. They even point to excellent sightlines and ADA curb-ramps on both sides of the street that create natural starting and ending points for the crosswalk.
Here's what the group tweeted Friday night after re-installing the crosswalk PBOT just removed:
PDX wants their crosswalks. If you want to foil our plans, we will paint over yours. pic.twitter.com/sgcKi2qAlZ

— PDX Transformation (@PBOTrans) September 30, 2016
"It's ridiculous to think a marked crosswalk is a hazard to anyone there," an agent of PDX Transformation shared with us in a recent email.
We have also heard from a parent at the school who wants to remain anonymous. "The school community was thrilled with new crosswalk," the person said, "and compliance from people driving/biking was suddenly very high when it hadn't been before."
Wendy Rattel, the school's office manager who can see the intersection out of the window from her desk seems exasperated by the whole situation. "It's dumb that they took it out," Rattel said, "It wasn't causing any harm. The city hasn't listened to us, so now we just tell our parents to keep their kids safe."
As I put away my camera and notebook, she offered one last comment. "Good luck with your story, we'd really like the crosswalk back."
We've asked PBOT for a comment and will update this story when we hear back. Please read major update to this story here.
— Jonathan Maus, (503) 706-8804 – jonathan@bikeportland.org
BikePortland is supported by the community (that means you!). Please become a subscriber or make a donation today.