This post was submitted by BikePortland subscriber Adam Herstein. These posts usually appear on our Subscriber Posts page but we like to share them here on the Front Page when appropriate. — Jonathan
ODOT has completed their Sunrise JTA Project which constructed a new 2.15 mile, four lane expressway at a cost of $130 million. As part of this project, bike improvements were constructed. I rode the new cycleway yesterday evening.

Here's ODOT's map of the new biking and walking paths:

The new 2-mile cycleway was constructed to current standards and features complete grade separation at crossings, a large clear zone from the expressway, as well as concrete barriers when it runs along the roadway.
The path is well connected to the existing I-205 path, south of Clackamas Transit Center. Overall, the path is designed for cycling in mind, and lacks any sharp turns, steep climbs, or utility poles blocking the path. The ride is pleasant and passes through some green areas, along small streams, and even has a nice view of Mount Hood. The path ends unceremoniously at the intersection of OR-212 and SE 122nd Ave, but will benefit people who work in the industrial areas surrounding the project and want to cycle to work. It also works well for those who augment their trip using the Green Line, saving a potential bus transfer.
Here are more of my photos: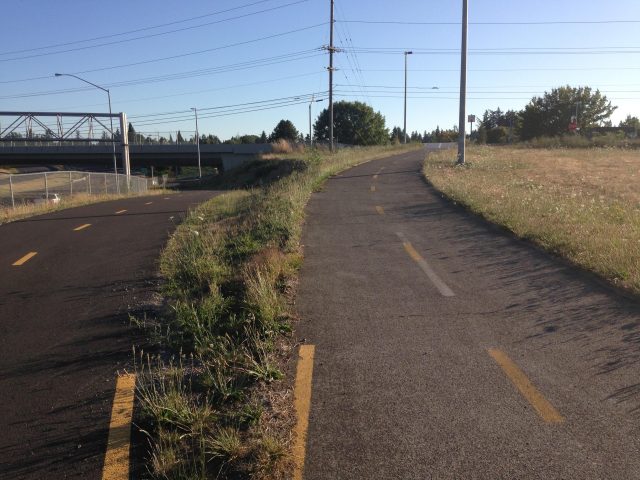 Overall, it's a well-designed cycleway from our state transportation agency.
— Adam Herstein, @AdamHerstein
— Want to post on BikePortland? It's one of the benefits of subscription. Join the 200+ other BikePortlanders and sign up today.