Posted by Jonathan Maus (Publisher/Editor) on April 21st, 2016 at 4:16 pm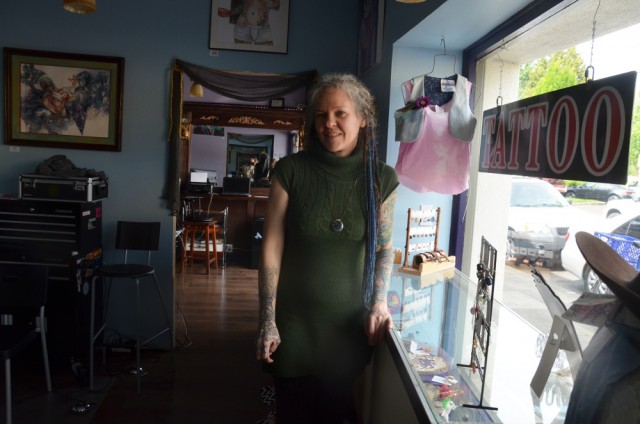 For many traffic crash victims the difference between getting a check from the insurance company and getting nothing comes down to one document: a police report. And for an increasing number of Portlanders the time it takes to receive a copy of that report has ballooned from two weeks to up to six months.
These victims are in limbo. Without a police report they can't get paid what they're owed and they can't fully heal emotionally because they often aren't even able to find out basic information — like the first and last name — of the person who hit them.
"It's clear her case is valid but we don't have the report, and that's the sole reason she won't be given what she's entitled to."
— Mark Ginsberg, lawyer
50-year-old Rowan Kimsey, an artist who just opened up The Lucky Mermaid tattoo studio in the Montavilla neighborhood, is living this nightmare. She was hit in 2015 and still doesn't have a copy of her police report.
On November 3rd of last year Kimsey was biking home from work on SE Division Street (just two days after closing the sale on her new studio) when a woman driving a truck passed her so closely that the side-view mirror slammed into Kimsey's back. The impact broke three of her ribs, collapsed and punctured one of her lungs, ruptured her spleen and damaged her diaphragm. She spent four days in the hospital and it took over two months to fully recover.
Kimsey was innocent and she has insurance; but her insurance company won't pay out the claim because they're waiting to see the police report. (Kimsey filed the claim on her own auto insurance policy because the driver of the truck still hasn't been found.)
Kimsey's attorney, Mark Ginsberg of Berkshire Ginsberg LLC, requested the police report on February 5th. It's been 76 days and the Records Division still hasn't filled the request.
"Her insurance company has taken position that they need the police report before they can move forward with the case," Ginsberg told me in an interview this week. "It's clear her case is valid but we don't have the report, and that's the sole reason she won't be given what she's entitled to."
Most insurers require a police report to act as the "proof of loss" document needed to process a claim.
Ginsberg currently has four clients like Kimsey who are waiting for police reports. "It used to be you'd just mail in your 10 bucks and the city would turn around the request in 10 days, maybe two weeks," he said. "It's never been this bad in the 21 years I've been in practice."
And it's not just about the money. Ginsberg said the delay hurts his clients in others ways. "By delaying these cases, my clients are not getting treatment if they are planning on using that money to pay for medical services," he said. "And over time cases get harder to prove because witnesses die, leave town, remember less, and so on. So any delay is always a detriment to the injured person and a benefit to the insurance company of the person who has caused the harms and damages."
"I'm borrowing money from friends to keep it going. I'm very frustrated that it takes six months to get a single piece of paper."
— Rowan Kimsey, crash victim
For Rowan Kimsey, the delay adds insult to her injuries. "I was trying to open up a new business and I could really use that insurance claim," she said. "I'm borrowing money from friends to keep it going. I'm very frustrated that it takes six months to get a single piece of paper."
Ginsberg, a former Chair of the City of Portland's Bicycle Advisory Committee, has been trying to bring this issue to the attention of the police bureau and Transportation Commissioner Steve Novick's office for two months but says he's been ignored. Ginsberg finally got a reply to his emails on Tuesday — the same day he said he was taking his story to the media.
Now he's in touch with the captain of the PPB Traffic Division and staff from City Hall and the records division.
Meetings are planned and possible solutions are finally being discussed; but according to PPB Records Division Supervisor Tammi Weiss the fix won't be easy. And it won't happen overnight.
Weiss says she too is frustrated by the backlog, which is the largest it's been in the 26 years she's worked in the division.
Weiss has put up a statement on the city's website that blames the delay on, "an understaffed division, increased workload, financial restrictions, and the new Records Management System."
"It will be a long time down the road when it will be fixed. We're so far back now, it'll take a while for us to get caught back up."
— Tammi Weiss, PPB Records Division supervisor
In an interview Wednesday, Weiss told us they've requested more staff but the positions won't be approved until next year's budget which goes into effect in July. For most of last year, Weiss said, they had only two staffers working through 1,500 public records requests a month. "Requests have been increasing around 10 percent a year and we don't have the personnel to keep up with that."
Weiss said up until 2014 the average time to fulfill a request was about 21 days.
Along with the lack of staff (a problem exacerbated by obligations the division has to U.S. Department of Justice requests), a new records software program just went live at the end of last year and all existing staff had to be trained to use the system.
Is there a way to pull out more urgent requests and do them first? Weiss said they prioritize records that have been subpoenaed by a court, but other than that it's "tricky" because they work on a first-come, first-served bases and it becomes a "balancing act" to make sure no one has an unfair advantage.
Weiss said she's been aware of Ginsberg's concerns and is working on a solution to the problem, like trying to find shortcuts to process requests faster without disclosing sensitive information. Another interim fix is getting more police officers to issue information exchange forms at the scene of a crash. Those non-legal forms are very common in fender-benders when an officer decides a full report isn't necessary.
Unfortunately, Ginsberg says these information exchange forms are often not made available when one of the parties of the collision is a bike rider or walker — because they are often incapacitated due to injuries or in an ambulance and not able to advocate for themselves at the scene.
Whatever's done to address this problem is likely going to take time. Officer behaviors at crash scenes is a fix that will have to come through training and culture change at the PPB. And Weiss at the Records Division doesn't expect the backlog in her office to subside any time soon. "It will be a long time down the road when it will be fixed. We're so far back now, it'll take a while for us to get caught back up."
In one of the stacks on Weiss's desk is the request from Rowan Kimsey.
When I told Kimsey that her lawyer had finally received emails from city staffers on Tuesday she said, "In the time it took them to respond to Mark [Ginsberg] they could have gotten the damn piece of paper and put it in an envelope and mailed it."
— Jonathan Maus, (503) 706-8804 – jonathan@bikeportland.org
Our work is supported by subscribers. Please become one today.
Jonathan Maus is BikePortland's editor, publisher and founder. Contact him at @jonathan_maus on Twitter, via email at maus.jonathan@gmail.com, or phone/text at 503-706-8804. Also, if you read and appreciate this site, please become a supporter.