Part of Gap Week.
So far this week we've covered a gap in downtown, one out east, and now we'll travel over to southwest. Today's gap is one that I had the displeasure of discovering during our Southwest Portland Week last February: southbound Terwilliger between Chestnut and 7th/Caldew (map).

After we spent a week riding and reporting in the southwest quadrant, I came to expect the unexpected. Even so, this gap stands out for several reasons.
Network context
There are precious few bikeways in Southwest Portland. Its hills and complete lack of street grid makes it a challenging place to ride, so relatively flat and direct roads like Terwilliger are absolutely essential to the biking network. In fact, if you want to go north-south between downtown Portland and Burlingame, your only good option is Terwilliger — or if you don't mind running a gauntlet you can also use the bike lanes on the state-managed Barbur Boulevard.
While Terwilliger is labeled as having a continuous bike lane between downtown and Burlingame on both Metro's Bike There! map and the City of Portland's official bike map, there's actually a dangerous gap about a half-mile south of Capitol Highway.
Reader Eric Wilhelm lives in the area. Back in August he contacted us after hearing about a crash in/around this gap. He said despite the narrow roadway (about 30 feet total for two standard lanes), people frequently drive 10 miles per hour over the posted 25 mph speed limit. "I see far too much curb-hugging here and drivers not paying attention," he wrote in an email. "I've been unsafely passed, tailed, and cut off at 7th numerous times with my kid on the bike," he added. Wilhelm also said he's tried working through his neighborhood association and the Portland Bureau of Transportation's safety hotline to but hasn't made any headway.
Existing conditions
This gap is sort of the perfect storm for danger and high stress. As you approach this gap all seems well as you head south toward Barbur Blvd. You've got a bike lane (not a very wide one, but at least it's there), and the road also has a bike lane and a parking lane in the opposite direction so it feels like everyone has some breathing room. Then, just after the bike lane drops, the parking lane goes away too. And then there's a sharp curve.
A road narrowing by about 25%, the lack of dedicated cycling space, a curve, and dangerous driving are a bad combination. Making matters worse are several large trees adjacent to the southbound side of the road, which can impair visibility.
Then, when the bike lane picks back up again at SW 7th/Caldew, there's a storm drain grate right in your path.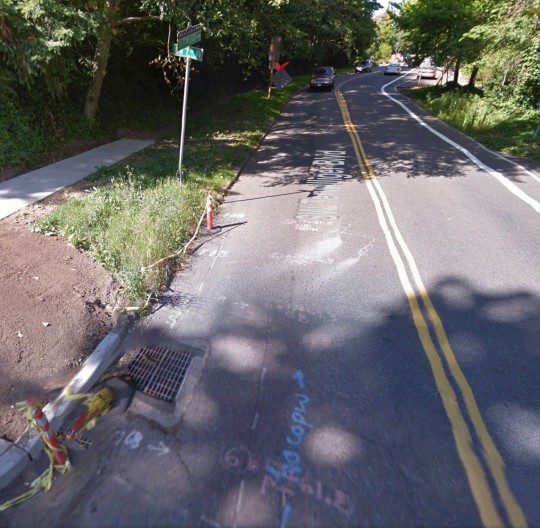 Yes it's just 330 feet (0.06 miles), but as we've shared many times in the past — a good bikeway is only as good as its weakest link.
Would you feel comfortable riding with a child or pulling one in a trailer through this gap?
What the future holds
Fortunately this gap is on PBOT's radar. A project with an estimated cost of $1 million and aptly named "Terwilliger Bikeway Gaps" (project #90091) is on the recommended project list of the City's draft Transportation System Plan that will be adopted this spring. This project made it on the "financially constrained" list which PBOT reserves only for the one's it considers most feasible. PBOT staff confirmed for us that this specific gap will be one of the gaps addressed in this project.
But this doesn't mean we can sit back and relax. For some perspective, the Terwilliger Bikeway Gaps project is just one of over 250 projects on the TSP fiscally-constrained project list and among hundreds of millions in identified capital infrastructure needs. So, while there are very few sure-things in this budget-challenged environment, the relative low-cost and high-demand of this project should give it a great chance.
If you live, ride, or work in this area and want to make this key bike route better, stay tuned for opportunities to weigh in. And when you advocate for it, make sure to tell everyone at PBOT that, "It's on the TSP financially-constrained list!" They'll not only appreciate your wonkiness, they'll be much more able to grant your wish.
Stay tuned tomorrow for our final gap. Then on Friday we'll round up your submissions! Speaking of which, don't forget to tag your gaps with #GapWeekPDX or drop us a line with the location.
UPDATE, 1/28 at 9:52 pm: Reader 2WheelBeamer sent us this video of him getting honked at while riding through this gap. It happened just 10 minutes after we posted this story!
— Jonathan Maus, (503) 706-8804 – jonathan@bikeportland.org
BikePortland can't survive without paid subscribers. Please sign up today.