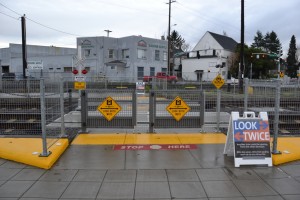 New swing gate at the Orange Line crossing
of 11th Avenue.
(Photo: TriMet)
Portland's regional transit agency has installed swing-out gates that biking advocates say will force people on bikes and trikes to stop or dismount in order to cross its new MAX tracks at SE 11th Avenue.
However, it installed only two out of eight swing gates it had earlier proposed for the area.
As part of a collaboration with the Portland Bureau of Transportation, TriMet crews installed the new gates on Tuesday. The idea is that if people biking are forced to stop and open a gate, they won't roll onto the tracks without first checking to see if a train is coming.
This is a scaled-back version of the plan TriMet circulated earlier this year, which would have put swing gates on both sides of the MAX tracks at both 11th Avenue and 8th Avenue.
Here's where the new gates were installed, just south of the point where SE 11th Avenue (which is at the top of this image, running north-south) bends to become Milwaukie Avenue:
Facing critical questions from the Portland Bicycle Advisory Committee in July, TriMet staffer Jennifer Koozer said the agency couldn't install automated gates for people biking or walking (as it does for people driving) because gates with motors on them get vandalized and abused.
The gates weren't originally part of TriMet's plan, but were added after the agency stationed staffers at the rail crossings for weeks to see how people used them. TriMet concluded that some sort of obstacle was necessary.
The new rail crossings are part of TriMet's $1.5 billion Orange Line, which returned millions of dollars to the federal government because the project came in under budget.
The city's Bicycle Advisory Committee later made its opposition to swing gates here formal in July. The Pedestrian Advisory Committee did too, because of the difficulty of getting through the gates while using a wheelchair or other mobility device.
After that response, TriMet changed its plans at the 8th Avenue crossing and built fenced switchbacks instead. It also added a triangular concrete island placed on south side of light rail tracks west of 12th. TriMet spokeswoman Mary Fetsch said in an email Wednesday that those are "to help orient riders to look both ways before crossing. Fencing on those two islands will be completed over the next few weeks."
And it removed plans to have a second set of gates immediately north of the MAX tracks.
"The fencing is effectively channelizing appropriately already," Fetsch said. "That wasn't the case on the south side."
Back in November, after TriMet announced the revised plan that was installed this week, we asked Jessica Engelman of BikeLoudPDX and the adjacent Hosford-Abernethy Neighborhood Association for her take.
This is a frustrating response from TriMet, considering the overwhelmingly negative response they received from their first, nearly identical, proposal. In addition to the bicycle and pedestrian groups that spoke out against these proposed "safety" measures, the Hosford-Abernethy neighborhood association board was quite clear in their disapproval of both switchbacks and swing-gates. …

This whole situation is just another instance of "bikes vs public transit," when we should be active transportation allies. Hopefully once bike share takes off, TriMet will realize that bicycles only enhance the reach and reliability of public transportation. I wish TriMet were operating bike share, as it would force them to take a more holistic perspective in their projects.
— Michael Andersen, (503) 333-7824 – michael@bikeportland.org