TriMet has at least $34 million, and maybe much more, unspent within the project's scope of work.
(Photo:
TriMet
)
Four years after the Portland area's transit agency furiously chopped costs and recruited other local governments to balance the budget for its new $1.5 billion rail line, the price tag so far is turning out to be more like $1.3 billion.
Though a few remaining bills have yet to be paid, the combination of far more cost-efficient track and systems construction than expected and persistently low interest rates has been so large that TriMet has been searching for new ways to spend some of the unexpected surplus locally.
Last summer, as the scale of the surplus became clear, TriMet recruited U.S. Sen. Jeff Merkley to ask the Federal Transit Administration for permission to restore $38 million worth of projects that were eliminated during TriMet's round of last-minute cost cuts in September 2010, most notably $25 million in additional free parking garage spaces at the new Tacoma and Park Avenue stations and $9 million for two additional new light rail vehicles.
In a letter dated March 6, the relevant FTA administrator agreed to three smaller changes totaling $3.6 million but denied the larger requests.
"Completing the project under budget is a substantial accomplishment and TriMet will retain the local share of the cost savings and can apply those funds toward these activities," FTA Regional Administrator Richard Krochalis added.
In an email Tuesday, TriMet spokeswoman Mary Fetsch (who provided BikePortland with the documents linked from this post via a series of public record requests) echoed Krochalis.
"Having such a complex project come in on schedule and under budget is a testament to the quality of the team, our partners, our contractors, our subcontractors and our trades and apprentices," Fetsch wrote. "All of our six MAX construction projects have been delivered on time and on budget; you may recall that the MAX Yellow Line opened four months early and under budget."
At least $34 million to spare within current scope of project
According to a December 2014 construction report, downward revisions of $64 million from "guideway and track elements," $42 million from "systems," $33 million from finance charges and $70 million in unallocated contingency had left the agency with exactly $199,955,869 in "uncommitted" dollars from its $1.5 billion budget.
Thanks to the scale of savings, the transit agency now faces a pleasant dilemma: With at least $34 million, and maybe much more, still to spare in its budget, are there any other capital investments to be found that would (unlike the additional parking garages) be within the scope of the FTA-approved plans?
Even if the agency chooses to give up on the rest of its 50 percent federal match, accept the FTA's congratulations and return tens of millions to the beleaguered federal transportation budget in 2019, it may still have millions in local funds to spend on capital projects anywhere in the region.
In an interview last week, Fetsch said TriMet hadn't yet decided on its next move.
How much money is $34 million?
The expanded Eastside Greenway Trail beneath the new Tilikum Crossing. Including the bridge pathways, all of TriMet's biking and walking projects related to the Orange Line have cost $65 million.
(Photo: J.Maus/BikePortland)
Though it's less than 3 percent of the cost of the new 7.3 mile rail line and related road work, $34 million is a vast sum in the world of biking and walking infrastructure.
"At that price we could get bike sharing stations at every single Trimet station," Bicycle Transportation Alliance Executive Director Rob Sadowsky said. "We could get five downtown protected bike lane projects."
"We could spend $500,000 on traffic calming at the each of the top 60 most dangerous intersections in the Portland Metro region," said Noel Mickleberry, Sadowsky's counterpart at Oregon Walks. "That's 425 high-end signalized crosswalks. I don't know what the cost would look like, but I wonder what safety improvements along one entire high-crash corridor, like Powell, would look like."
In 2008, Portland Bicycle Coordinator Roger Geller estimated that the entire citywide biking network to date had cost $60 million to install.
None of those items is within the scope of TriMet's FTA grant application, so TriMet couldn't receive its 50 percent federal match for them. Nor could the money be spent to improve bus or rail frequencies, because the local bonds TriMet issued for the project can only be spent on capital projects — infrastructure and vehicles, essentially.
But the examples do communicate the scale of federal capital grants available for transit, and also the amount of money that could theoretically be available for late-breaking design tweaks to Orange Line-related rail and bus stations or to the $65 million already spent on new biking and walking infrastructure.
Connections to transit still leave plenty of room for improvement
Though TriMet's investment in biking and walking routes to connect to its new bridge and transit stations has been substantial (more on that in a few days) there are still places where a bit more money could make a big difference.
Most notable, maybe, is the awkward connection between the west landing of Tilikum Crossing and one of the country's #1 bike destinations: Portland State University. As reader Ted Buehler observed in January, MAX users enjoy a beautiful viaduct right up to the university while people on bikes or foot have a five-minute winding trip that includes crossing a right-turn slip lane and waiting through up to three signal phases to cross this intersection at SW Harbor Drive and River Parkway.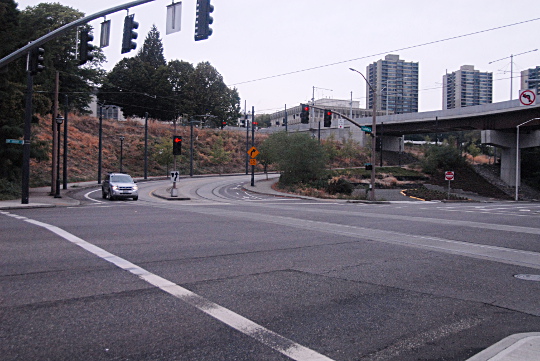 It's almost certainly too late to look for a way to add a biking-walking viaduct. TriMet tried during its design process but concluded that a bikeway was impossible because of the need to weave between existing freeway supports. But are there still street-level design changes to be made within the scope of the Orange Line?
"If it's capital, it could be considered," Fetsch said. "Any investments of our local funds would not require FTA approval, but would need permitting approval from the jurisdiction that it is in."
Federal matching funds, Fetsch said, would have to meet a tougher standard.
"The intergovernmental agreements between the project sponsors define the scope of the project and its financing," she added. "There are some minor safety improvements we are reviewing that are within the agreed project definition to determine if there are other things needed to improve safety, such as signs, signals, etc., which will add costs to the project."
While we're at it, here's another trouble spot near the other end of the line, just south of downtown Milwaukie along McLoughlin Boulevard:
TriMet is using Orange Line funds to build a new mixed-use path beneath the MAX viaduct here, connecting Oak Grove's excellent Trolley Trail to Milwaukie — and eventually to the Springwater Corridor and the regional bike path network. The biggest problem in the new route is right here, where a highway-style stretch of McLoughlin sprouts a short right-turn lane onto SE 22nd Avenue. People driving here rarely bother with right-turn signals while slipping onto 22nd, which also happens to be a neighborhood commercial node.
Here's the same path crossing seen from the north:
Could some of TriMet's $34 million be spent to change this intersection from the highway exit it's been into a normal urban right turn that would suit the lively commercial area the MAX line aims to create? The decision would rest in part with TriMet, but also with the Oregon Department of Transportation, which operates McLoughlin Boulevard as state Route 99-E.
Could money be spent on parking garages?
The new parking garage at the Orange Line's Park Avenue station in Oak Grove, south of Milwaukie. TriMet asked for permission to add two more stories to the garage, as originally planned, but the federal government denied use of FTA funds for that purpose.
(Photo:
TriMet
)
Another possibility, suggested by the FTA in its March 6 letter to TriMet, is that the agency could use its remaining local funds to expand the free park-and-rides at the Tacoma or Park Avenue stations.
Some residents near those stations support that plan, saying it would prevent spillover into nearby neighborhoods.
"I would personally love to see a multi-story garage," wrote Gail Hoffnagle, president of the Sellwood Moreland Improvement League, in a February email about the possibility of expanding the Tacoma station's new 320-space parking lot into an 800-space garage. "We have several apartment buildings being constructed in Sellwood without parking and it is already making parking more difficult. I have been dreading the opening of the Orange Line because of the parking problems it will cause in the neighborhood."
However, now that the FTA has rejected using federal transit matching funds to build those larger garages, it's not clear whether TriMet can find $34 million in purely local funds for one or both. It'd be $17.5 million for the Tacoma garage, $7.7 million to add two more floors and 245 parking spaces to the Park Avenue garage. The purely local money is limited in part because a large share of the Orange Line savings come from lower financing costs, all of which had been part of the local match.
The final possibility for TriMet's surplus is that it if it isn't spent at all, the local share would be divvied up among its funding partners: among them the Oregon Department of Transportation, Metro, Clackamas County and the cities of Portland and Milwaukie.
In an email Tuesday, Fetsch's language suggested that some amount of refund to other government agencies is almost certain.
"The refunds are expected to be fairly small because the cost of financing, which counts as local match, is running smaller than planned due to low interest rates," she wrote. "There is no timeline for when a decision might be made. But when refunds do occur, each partner can choose to do with the money whatever they prefer."
Correction 4 p.m.: A photo caption in an earlier version of this post gave the wrong name for the Eastside Greenway Trail and incorrectly described the $65 million already invested in biking and walking infrastructure. That sum includes the pathways on Tilikum Crossing.