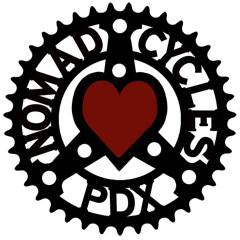 In case you hadn't noticed Portland is home to a thriving electric bike scene. We have e-bike dealers, e-bike enthusiasts, and of course e-bike companies. Now there are two new businesses in town that are riding the surging interest in battery-powered bikes: Nomad Cycles and Pedego Electric Bikes.
Nomad Cycles* is not exactly new. It's a new spin-off of Portland-based Ecospeed launched by two former employees, Brad Davis and Tad Beckwith. Brad and Tad have purchased the bicycle portion of the Ecospeed business from its owner Brent Bolton. Ecospeed will continue to do engineering and licensing of electric-bike products, but Nomad Cycles will build and sell the bolt-on electric-assist systems that Ecospeed was known for. It's a bit confusing, so here's the statement from Nomad:
Brad Davis, EcoSpeed's General Manager, purchases the complete rights for EcoSpeed's mid drive system and launches his own company Nomad Cycles. Brad will continue to focus on creating retrofit electric assist for bicycles using the EcoSpeed mid drive design. The same great product made in America offering people a viable form of alternative transportation for their daily lives.

Nomad Cycles begins with a 15-year history of creating innovative products for the electric bicycle market through the EcoSpeed mid drive system. Moving forward, Nomad Cycles will continue to work on new products for the surging electric assist market with new controllers and systems for bikes of all types and size.
In other local e-bike news, national brand Pedego Electric Bikes plans to open a Portland dealership next month. In yet another sign of the arrival of e-bikes into the American market, this new shop is one of five new stores the company is opening. Pedego, based in Irvine, California, makes a full line of e-bikes that are sold in 75 branded stores and 800 dealers in 40 countries. The new Pedego shop will be located on at 412 SW 2nd Ave. They'll also offer rentals. For more info contact Tommy at (503) 241-2912 or tommy (at) pedegoportland.com.
(*Note: Nomad Cycles is not to be confused with Nomad Cargo, a separate Portland business that builds cargo bikes.)

— Jonathan Maus, (503) 706-8804 – jonathan@bikeportland.org