Freshly paved path from bridge to what will eventually be an off-highway connection to Willamette Park.
(Photo: Multnomah County)
Multnomah County has made major progress on the Sellwood Bridge project and at the start of next month they'll flip the switch on a traffic change that will impact your bike ride.

In early November, people using the northbound lane of Highway 43 will begin using new interchange ramps and the southbound lane will be routed under the new bridge. If you're headed from the bridge up into Riverview Cemetery, you'll use a new entrance (a bit further north than the existing entry location) that lines up with the new interchange.
This week the county released an updated image of progress on the new paved multi-use path between the bridge and Macadam Bay.
Here's an aerial photo showing the progress as of September 12th.
And here's how the connections will look once it's completed (bikeways/walkways are bright blue)…
Meanwhile, the bicycling detours around the west end of the bridge continue to demand caution. Reader Gretchin Lair sent us a note and photos showing how the county is routing people from the sidewalk on SW Macadam down to the new path.
"These photos don't show the pitch well," Lair wrote, "but it is terribly steep, has awkward angles, and an uneven transition zone. It feels incredibly dangerous, so much so I felt compelled to walk my bike in this stretch."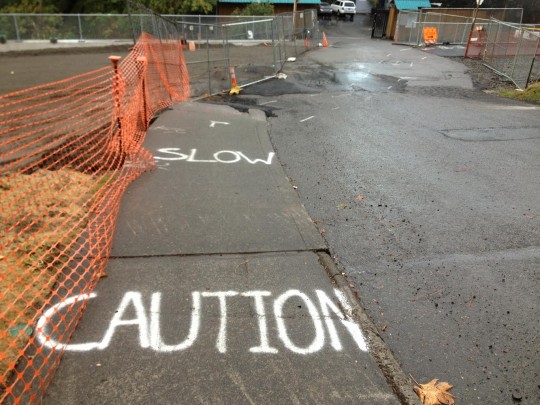 Once built, the bridge will have 6 and 1/2 foot wide bike lanes, 12-foot wide raised paths, and two, 12-foot wide standard vehicle lanes. The bridge is expected to open to traffic in spring of next year and be 100% complete by November.
For some of you, the new Tilikum Bridge offers an excellent way to avoid this area. But for those of you still taking the Sellwood regularly, how are the detours and ongoing construction zone treating you?
For more information about this project visit SellwoodBridge.org.