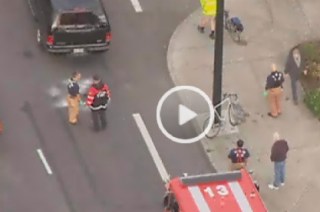 Still from
KGW-TV
video taken at the scene in 2012.
A Portland man who was blamed for a collision on a notorious section of North Broadway three years ago has been absolved in court.
Three years ago 33-year old Karl Zickrick was riding down North Broadway on his way to work. As he approached Wheeler he noticed a large SUV encroaching into the bike lane in front of him as it prepared to turn right. To avoid being right-hooked, Zickrick moved to the left out of the bike lane to go around the SUV. However, just as he made that move the driver of the SUV, 62-year-old Michael McLerren, slammed on his brakes and Zickrick flew into the back window. The impact shattered the window and left Zickrick with severe facial injuries and a broken jaw. (Two months after this collision, former Mayor Sam Adams decided to prohibit all right turns onto Wheeler.)
Adding insult to injury, the Portland Police Bureau blamed Zickrick for the collision. The day the crash occurred the PPB said this in an official statement (emphases mine):
The cyclist, 30-year-old Karl Thomas Zickrick, apparently swerved into the back of the Expedition, shattering the back window…

Although a traffic crash investigation was conducted, no citations will be issued as the driver of the SUV was properly yielding to the cyclist.
According to the PPB, Zickrick, the bicycle rider, was following too closely and failed to yield the right-of-way to McLerren.
The PPB's finding led McLerren's insurance company (Farmers Insurance) to lay 100% of the blame on Zickrick, thus refusing to pay for his damaged bike, lost wages, or medical bills.
Thankfully, Zickrick decided to fight the case in court. And he won.
Zickrick hired Ray Thomas of Swanson, Thomas Coon & Newton to try his case. Thomas and his associate Charley Gee wrapped up the three-day trial yesterday at the Multnomah County Courthouse.
"It feels great. It's been a weight on me for the last three years."
— Karl Zickrick
"This case shows that insurance companies cannot treat commuters on bicycles like second class road users," Thomas wrote to us in an email, "It is a shame that Karl had to go through a trial to receive any damages."
Gee tells us that at the trial, lawyers for Farmers Insurance claimed Zickrick was riding too fast for conditions. That allegation came, "Despite riding under the speed limit on a dry day with very light traffic," Gee said. They also said Zickrick was at fault because he left the bike lane.
Here's more from Gee about how they won the case:
"Ray Thomas and I took this case in front of a conservative Multnomah County jury and they found that the SUV driver was 100% at fault for causing the collision. The driver, besides driving his large SUV onto the bicycle lane immediately in front of the bicyclist, also failed to wear the glasses he was required to wear to legally drive, failed to do a shoulder check when crossing lanes or merging, and failed to check his rear-view mirror."
The jury awarded Zickrick $41,231 in economic damages and an additional $30,000 in non-economic damages.
It's fitting that this case was heard just a block from yesterday's protests and rallies. It's a reminder, Gee says, that, "This fight is in all levels of government, city, county and state."
In an interview today Zickrick told us he feels "great" about the ruling. "It's been a weight on me for the last three years." Zickrick said initially he just wanted to move on, but Thomas convinced him to take it to trial.
Beyond his injuries, Zickrick said being blamed and piled-on in the media was the hardest thing to deal with. "I suffered some bad injuries but the thing that resonated the most was all the stuff I read about it." Zickrick also learned that not every police officer knows bike laws. He said the police investigator he spoke with while in the emergency room admitted to him that he didn't know the laws about bike lanes and right-of-way. "He talked to me on the phone as if I should have yielded to the SUV, like a car would have to do."
The best part of his court experience, Zickrick says, is how the case changed how jurors perceive news coverage of bicycle collisions. It turns out that a lot of the jurors had seen coverage of the incident on the news and accepted the "facts" and blame as it was presented. But after hearing the facts of the case, Zickrick says, "It totally changed their trust and perception of the media on these kinds of events. At first, a lot of them just took the bias of the newspapers and TV stations, so it was cool to hear them say that. That was exactly what I had hoped would come out of the situation."