Mike Cooley, shown here ready to head out on his
daily bike commute before his 2013 collision.
(Photos courtesy Lisa Cooley)
A man whose legs were paralyzed in an unsolved 2013 hit-and-run on Interstate Avenue has sued the city, state and regional transit agency for $21 million.
Mike Cooley's wife Lori, who is also a plaintiff in the lawsuit, told us in a May interview that she's motivated in part by the lack of changes to Interstate Avenue's bike lanes despite years of serious collisions on the street.
"Something has to be done to make that road safer or just shut it down for bikes," Lori Cooley said. "There's just too many injuries there."
Lori Cooley said their attorney, Randy Pickett, hired a private investigator to study what she said are seemingly endemic problems on Interstate near the site of Mike Cooley's collision at Interstate and Greeley.
"I don't understand how nobody could be doing anything to make that safer when there's been so many injuries."
— Lori Cooley, wife of man paralyzed by collision
"He and our attorney sat there at that spot where Mike got hit and they were just appalled at the number of close calls," Cooley said. "They just could not believe it when they saw it with their own eyes how dangerous that is. … I don't understand how nobody could be doing anything to make that safer when there's been so many injuries."
According to the Cooleys' lawsuit, whose filing was first reported Thursday by The Oregonian, the one-mile stretch of Interstate between NE Going and NE Russell has seen nine other serious bike-related collisions from 2003 to 2014, including one fatality: Brett Jarolimek, who died at the Interstate/Greeley intersection in 2007.
After Jarolimek's death, the city redesigned the intersection to prohibit right turns off Interstate onto Greeley. However, that didn't stop the driver of a pickup truck from making an illegal 135-degree right turn into the path of Curtis Crothers in 2013. Crothers survived eight broken ribs, a punctured lung and other injuries.
The City of Portland's Vision Zero collision map shows 19 bike-related injuries on that stretch from 2004 to 2013, including Jerolimek's death.
Unlike Jarolimek and Crothers, Cooley was biking north, uphill, on Interstate at Greeley. He wasn't hit by a turning vehicle, but by one that police said had been "driving erratically before the crash." The bike lane there, which is uphill on a slight curve, is only about four feet wide and its paint is often worn down because tires cross it so frequently.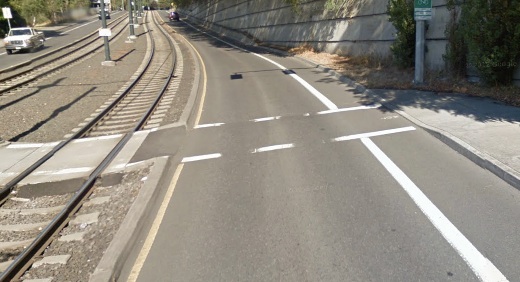 Approximate location of collision.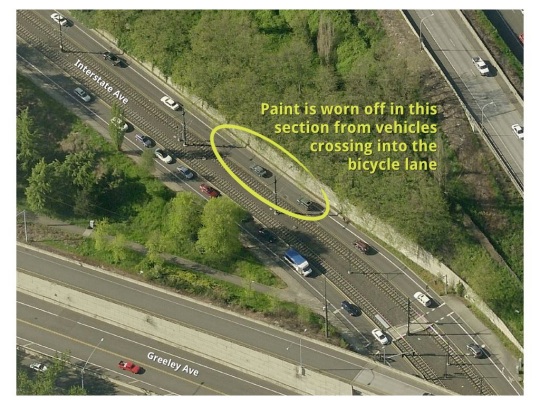 (Graphic: BikePortland reader Joshua Cohen)
The most recent major redesign of Interstate Avenue was in 2003, when TriMet constructed the Yellow Line on what had previously been a state-run urban highway. As part of this work, the project added a nearly continuous, but sometimes unusually narrow, bike lane. In this narrow stretch of the road, which gets regular truck traffic and where Interstate is situated partway up a slope in many locations, the bike lanes are particularly harrowing to ride in.
Lori and Mike Cooley, also before the collision.
The Cooleys' lawsuit has this to say:
In designing the roadway on North Interstate Avenue, just north of Greeley Avenue, in a dangerous condition for bicyclists and motor vehicle operators, at a time when defendants knew, or in the exercise of reasonable care should have known, that the roadway was too narrow to safely accommodate both motor vehicles and bicyclists.
When Lori Cooley and I spoke last month, it was clear that her feelings about the collision are dominated by despair over her husband's injury and its aftermath. Cooley (whose email address, both before the collision and after, starts with "cheerfulheart") also has a serious medical condition; Mike Cooley was her caregiver before his collision. These days, she cares for both of them.
"He still has a ventilator at night and he has a lot of breathing machines and breathing therapy that we need to do," Lori said. "He's still a parapalegic, still in a wheelchair, and probably always will be. … We've gone through lots of caregivers where they just quit. They just quit coming."
"Mike's life, my life, are just completely ruined, really," she said. "It's been really, really hard."