Screen grab from KPTV.
On Saturday (6/15) at around 11:30 pm, a man was critically injured while bicycling up Interstate Avenue. According to the Portland Police Bureau, 59-year-old Mike Cooley was riding northbound on Interstate when he was hit by someone driving a Ford pick-up. The collision occurred just north of the intersection with Greeley Ave.
Here's more from the PPB:
A witness described to police seeing a white Ford pick-up, possibly late 1970s model, driving erratically before the crash, which occurred in the northbound lanes of Interstate Avenue.
The truck operator fled the scene and PPB investigators are looking for the driver. Anyone with information is asked to contact Officer Chris Johnson at (503) 823-2213 or Chris.Johnson@PortlandOregon.gov, reference PPB Case #13-48846.
Thankfully, Cooley's injuries are not life threatening, but a report by KPTV says he, "faces months of painful rehabilitation in the hospital for dozens of injuries throughout his entire body." He also might become paralyzed as a result of the impact. According to KPTV, the man's wife said he was coming home from his shift as a postal worker and has been riding his bike to work for 15 years.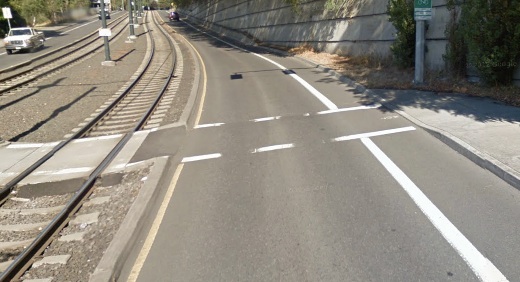 Approximate location of collision.
It's worth noting that this section of roadway (map) is extremely narrow and it's on an uphill so there's a significant speed differential between car and bike operators. At the location where this occurred, the road bends slightly. The Yellow Line MAX takes up a considerable amount of road space and people in cars and bikes are forced to share a relatively narrow road.
Here's a graphic created by reader Joshua Cohen that shows how common it is for people in cars to drive in the bike lane: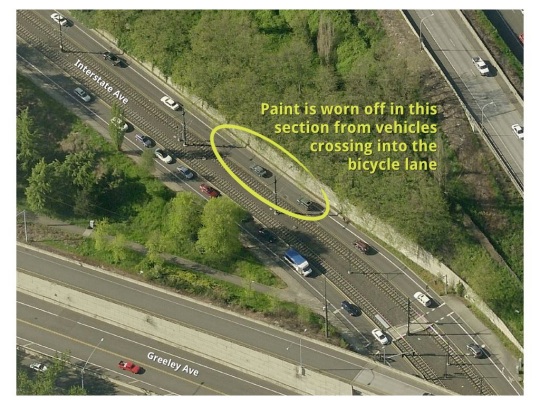 I ride this stretch of Interstate frequently and it's unacceptably dangerous. There's a striped bike lane, but I have always been spooked riding here given the speed differential and close proximity of cars and bikes. More should be done to lower auto speeds and/or to create a safer bicycling environment. One problem is that we have an extreme lack of north-south bicycle access in this area. Greeley (to the west) feels like riding on a freeway shoulder and there's a steep hill on Mississippi (to the east). Interstate is not a great choice but there are no other good options for people riding bikes.
Hopefully they catch this guy. And hopefully the City can do its part to create safer road designs and more appealing bicycle route options.