The overpass is being raised so that large-load trucks can drive under it rather than detouring onto Strawberry Lane.
(Images:
Google Street View
)
Despite receiving a dozen public requests to add sidewalks to an overpass it's planning to raise by 18 inches, the Oregon Department of Transportation says there's no room for them in the $3 million project.
Instead, ODOT will add a five-foot-wide striped walking and biking lane on the bridge's eastbound side. The road-level lane will be marked with a pedestrian symbol.
The Strawberry Lane bridge south of Clackamas is the only crossing of Interstate 205 for one mile in each direction.
As reported Wednesday by the Clackamas Review, the purpose of the project is to raise the overpass enough to prevent most large-load trucks from having to detour onto Strawberry Lane in order to avoid the relatively low bridge.
Without the bridge-raising project, more large trucks would begin using Strawberry Lane because their current detour on 82nd Drive is being blocked by the state's $118 million construction of a new highway, state route 224. According to the official project website, construction is scheduled to begin in late spring or early summer and wrap up by late summer.
"Why is there no mention of a sidewalk?"
As the Review's Raymond Rendleman reported, of the 36 comments ODOT received or answered during its local public outreach on the project last year, 12 of them asked for essentially the same thing:
Increase pedestrian and bike availability – the current situation is scary and dangerous, but the Strawberry overpass is a vital connector to east-side shopping, dining, recreation, and other opportunities which are not immediately available to the abundance of pedestrians and bikers living on the west side (of the interstate).
We live on Tiffany Ct. and would love to be able to walk to the park on Strawberry Lane. We have 3 teenagers as well as 3 dogs that would love to be able to walk there. Unfortunately, there are no sidewalks or even a bike lane on Strawberry Lane between 205 and 82nd, and there's none on the bridge either. Would it be possible to add a sidewalk or bike lane, even on just one side? This would be a great asset to the residents on Tiffany Ct, as well as all the residents of the apartments on 82nd just up from Strawberry Lane.
I'm concerned about the lack of additional improvement to the overpass. Why is there no mention of a sidewalk?

I have a daughter that lives on the West side of I-205 and I cross that overpass frequently in my car and there is always pedestrians crossing that bridge to access the sidewalks to Fred Meyers and other businesses on the East side of I-205. It is extremely dangerous with the arch of the bridge and visibility of both pedestrians and drivers coming up on each other, and now the arch is going to be even higher! What are you folks thinking? That route is a full use road! There are bicycles, pedestrians and cars that use that overpass 24/7 and there is already a safety issue now, and you folks are going to make it worse for bikes and pedestrians with no improvement!

What's up with that?

Sounds like the only thing ODOT is concerned about is truckers moving product and zero concern for public safety!
While making the bridge safe for pedestrians is probably beyond the scope of the project, it does seem reasonable that some improvements could be made on the approaches to the actual bridge structure.

Since some re-grading and retaining walls are required, I would hope that at least the approaches would have some improvements for pedestrians. Obviously the bridge doesn't meet modern standards, but it would be a shame to see it raised for over-sized loads and seismically retrofitted without addressing the extreme hazards pedestrians face using the bridge.
Can ODOT add a sidewalk or bike lane on Strawberry Lane between I-205 and 82nd Drive as part of this project?
It would have been nice to have a ped-friendly width on the bridge.
Bikes and people are hazard on bridge.
Strawberry Lane near 82nd, east of the bridge.
Would be nice to have more space for walkers/bikers.
We need a walking path on Strawberry Lane.
Pedestrians and bicyclists are a potential hazard on narrow bridge.
This JTA project needs to include addition of ped/bike crossing. One suggestion is hanging lightweight structure off bridge structure. Another is detached within R/W or alternate location within 600 ft.
Last night I attended the Clackamas CPO (Community Planning Organization). There was a concern about the lifting of the Strawberry Lane overpass because the design lacks sidewalks and bike lanes. Does anyone have any information on this? (forwarded to ODOT by Metro)
In its responses last year, ODOT offered the same answer to each of these people:
Unfortunately, adding a sidewalk or a bike lane is not in ODOT's budget as a component of this project at this time but it doesn't preclude adding a sidewalk or bike lane sometime in the future.
However, at the request of Clackamas County, ODOT has since agreed to narrow the travel lanes and paint a white stripe onto the north side of the bridge to mark a space for biking or walking, and to mark the space with a pedestrian symbol. The state transportation agency also plans to add sharrow markings in the general travel lanes to indicate that people are allowed to bike on the east-side ramp off the bridge.
ODOT says it is also considering allowing the speed limit on Strawberry Lane to fall to 25 mph. The street is currently posted at 35 mph.
ODOT: Raised sidewalk would have created biking-walking conflicts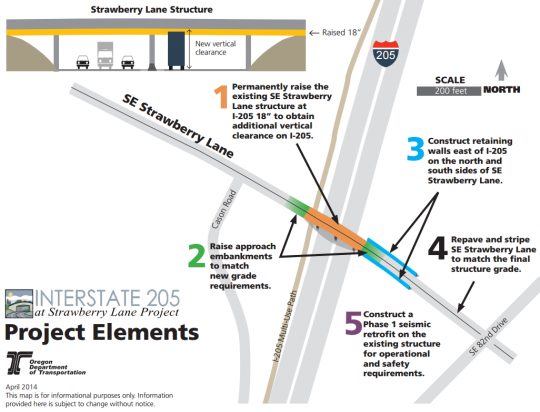 ODOT's description of the project benefits.
Jessica Horning, ODOT's regional transit and active transportation liaison, said Thursday that rebuilding the bridge to widen it would have increased the project cost 10 times or more. She said she didn't know whether anyone considered the feasibility of hanging structures from the sides of the bridge, but that she assumed someone would have.
Could the vehicular lanes be narrowed further? Horning said they are as narrow as they can reasonably get — 10 feet eastbound, 11 feet westbound — given the fact that they have to carry TriMet's No. 79 bus line.
What about creating a raised five-foot-wide sidewalk? She said that was out because of possible cost considerations and because it might create conflicts between people walking and people who would choose to bike on what would be a steep uphill sidewalk.
"It seemed like doing a stripe you could let the bikes and the pedestrians use the space with more flexibility," Horning said. "It's one of those projects that we couldn't get the ideal, but we did a pretty good job of using the space pretty creatively."
Horning said that though the roadway is being "relocated" upward and would therefore seem to trigger Oregon's law requiring all such projects to include bikeways and walkways, "we are providing pedestrian and bicycle accomodations" in the form of the painted biking-walking lane and the sharrow markings.
Gwenn Laubach Alvarez of the Clackamas County Pedestrian and Bicycle Advisory Council said in an email Thursday that when ODOT spoke to her council, the council "made it clear that it wasn't pleased with the proposals."
"There are certain members of the Clackamas County Commission who oppose any road funding that isn't funneled into improving highways and existing conditions for commercial traffic," Laubach Alvarez said. "ODOT is not immune to feeling the pressure from those commercial interests."
Speaking Wednesday at a demonstration that urged ODOT to prioritize safety for people driving, walking and biking on its roads above speed or traffic capacity, ODOT spokesman Don Hamilton said "we prioritize the issues based on safety" and that the agency is "already putting a lot of money into a lot of safety projects" on its dangerous streets.
He said that ODOT's safety improvements on dangerous streets can take years to implement because the agency needs time to hear from its stakeholders.
Thanks to Clackamas Review reporter Raymond Rendleman for forwarding us the transcript of public comments received by ODOT.
Correction 5/19: An earlier version of this post said the legal speed limit across the bridge was unspecified. It's 35 mph.