Leonard Barrett of Beam Development atop an eastside office building remodeled in 2013 that now houses 350 workers. In 2005, Beam had planned to demolish it for a parking lot, but high biking and transit use changed the owner's mind.
(Photo: M.Andersen/BikePortland)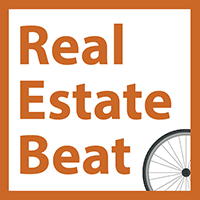 While the organization that says it speaks for local business interests continues to oppose major investments in biking, walking and mass transit, actual local businesses are continuing their embrace of the amenities we've built so far.
Hillsboro-based Lattice Semiconductor said this week that it's sold its Hillsboro headquarters and is moving 100 executive and administrative workers to U.S. Bancorp Tower in downtown Portland. The Oregonian described it as part of a "tectonic shift in Oregon technology" that is channeling tech jobs to the central city rather than Washington County.
Meanwhile, just across the river, Beam Development owner Brad Malsin told the Portland Tribune this week how unexpectedly high bike and transit use convinced him to scrap his plan to demolish the 90-year-old Convention Plaza and make room for a parking lot.
Instead, as we reported in 2013, Malsin's company has remodeled the building at 123 NE 3rd Ave., now known as the Eastside Exchange, to house 350 jobs. The on-site parking lot has only 126 spaces for cars.
"Originally, I wanted to tear the Convention Plaza down to create parking I thought the (Burnside Bridgehead) project needed," Malsin told the Tribune. "But over the years, I learned the people who want to work in the district support bikes and transit. That made saving the building viable, and it was the key to the new project."
Then there's this, from the Tribune article:
Much has changed over the past 10 or so years. Back then, the city council thought a big-box store was necessary to revitalize the neighborhood by attracting suburban shoppers. Now the inner east side already is one of the fastest growing parts of the city.
Times certainly have changed. But The Oregonian's piece about the Lattice relocation from Hillsboro includes a reminder that central-city job growth and low-car commuting aren't actually new trends. They're returns to the way things were before the mid-20th century.
Washington County has been the state's main tech hub since the 1950s, when Tektronix moved from Southeast Portland to new offices near Beaverton.

Tek spun off generations of other companies, among them Planar Systems, Floating Point Systems, Cascade Microtech and Merix Corp. – most of which also found offices west of Portland. Intel picked Washington County for its Oregon outpost and a successsion of other manufacturing outposts did, too.

Today's tech leaders, though, tend to favor downtown amenities – food carts, bike parking and mass transit. Lattice chief executive Darin Billerbeck lives in Portland's Pearl District, sometimes commuting to its Hillsboro office along the MAX light-rail line.
Now if only the building they're moving into could get that bike parking right, we'd be all set.
— The Real Estate Beat is a regular column. You can sign up to get an email of Real Estate Beat posts (and nothing else) here, or read past installments here. This sponsorship has opened up and we're looking for our next partner. If interested, please call Jonathan at (503) 706-8804.