Two streets in northwest Beaverton would get 1.5-miles of protected bike lanes joined by a U.S.-style roundabout under a Washington County plan being presented next week.
The proposal for Southwest 170th Avenue and Merlo Road between Alexander Street and Jenkins Road represents one link in the county's goal to flood the area with high-quality biking upgrades even as it adds traffic lanes and rebuilds sidewalks to accomodate the area's anticipated growth.
"In the next five years we'll be laying down some initial cycle tracks," Washington County Pedestrian and Bicycle Coordinator Shelley Oylear said, using the technical term for protected bike lanes. "The greater Nike area is a great opportunity to build a network to show the usefulness of this — not just those isolated segments but to build out a network."
The first detailed plans for 170th-Merlo will be discussed at an open house from 6-8 p.m. on Thursday, January 15.
Here's a possible cross-section of the rebuilt streets. They're currently one general lane in each direction with curb-tight sidewalks and turn lanes in some places.
Though these are marked as bus-only lanes, they'd actually be general traffic lanes used by buses and other vehicles.
Because the sides of both streets would need to be largely rebuilt, the county might build the bike lanes with a grade separation from the street as well as planted areas between auto and bike traffic.
North of Merlo, 170th would get a six-foot-wide striped bike lane on the west side of the street and a buffered bike lane on the east side:
Oylear said these lanes will connect to both the proposed improvements further north, closer to the Nike campus, that we covered in November:
Street segments marked in orange are under discussion for reconstruction.
…and to a theoretical Westside Trail connection across the Tualatin Valley Highway to the south:
TriMet is also planning to add bus service to Merlo. And unlike on the narrower North Williams Avenue in Portland, where concerns about "floating" bus stops pushed the bike lane to the left side of a one-way street, the county is proposing a bike lane that runs behind the bus platforms, a common European design that's now being used in San Francisco, Los Angeles, Seattle and elsewhere.
The other element that's sure to get attention at next week's open house is this roundabout proposed for the intersection of 170th (north-south) and Merlo (east-west):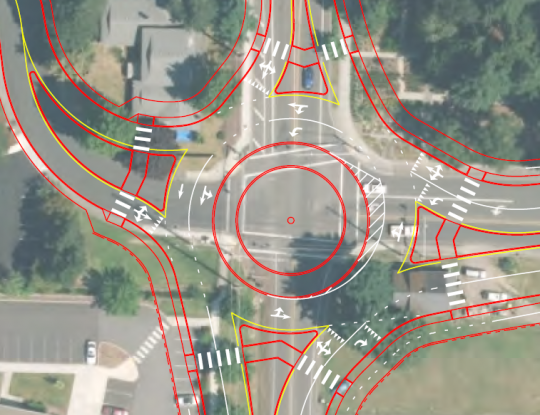 To cross this intersection, people biking and walking would both use the unsignalized crosswalks.
"There are some benefits but there are also some drawbacks," Oylear said of the traffic circle design. "Cars are going to be at slow speeds, but you're going to be relying on them to yield to you."
If the county decides against this roundabout option in favor of a more familiar signalized one, the node of the intersection would be narrower but multiple turn lanes would widen the streets in all directions.
Another relevant issue is that widening the street is likely to destroy some trees that sit on non-park land between 170th and the property line of Tualatin Hills Nature Park. Oylear said she could imagine some residents might prefer to preserve trees by eliminating the buffer between auto and bike traffic, narrowing the street by a few feet.
There's no firm construction schedule yet for any of the projects discussed in this post, though the county's transportation property tax and federally-funded state grants for the 170th-Merlo project mean that money is likely to be less of an obstacle than design.
If built as planned, it'll all add up to one of the first places the United States where a combination of off-street and on-street bike infrastructure create a well-connected all-ages bike transportation network — not just a trail-based recreational network — in a suburban environment.
"There's a lot of times you're building these protected facilities in isolation and their benefit is limited because they're not very long," Oylear said. "We're really excited to see what the impact to people's travel options are."
— In other news, Washington County's Urban Road Maintenance District Advisory Committee wants your feedback to help prioritize safety improvement project candidates. Visit the County website to see a list of projects, use an interactive map and use their online form to submit your comments. All comments received by February 13th will be considered by the committee.