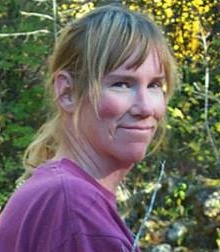 Ellen Dittebrandt.
The death this past Sunday of Ellen Dittebrandt, killed while bicycling on Interstate 84 west of Hood River, has stunned her large community of friends in the Gorge, many of whom are now focused on completing the Historic Columbia River Highway State Trail in her memory.
Dittebrandt's death also comes on the heels of a scary month in Oregon. Just last week we reported that there were four major rear-end collisions in the span of just one week.
This latest collision happened early Sunday morning. According to Oregon State Police investigators, Dittebrandt, a 52-year old volunteer firefighter (named Firefighter of the Year in 2010), artist and triathlete who lived in Mosier, was riding westbound in the shoulder of I-84. Friends say she was training for a triathlon and was riding from Rowena Crest to Crown Point and back.

As she approached the off-ramp to Viento State Park (near milepost 56), a 55-year-old northwest Portland man named John Allman hit her from behind with his pickup truck. The police say Allman was likely drowsy and that "driver fatigue has been identified as a contributing factor." The Hood River County DA's Office is now reviewing the case and will consider whether there was any criminal wrongdoing.
Ellen Dittebrandt (center, in yellow) and friends in a photo taken in July.
(Photo courtesy Mark Frost)
As we first shared back in 2007, there's a major effort to re-establish the Historic Columbia River Highway as a state trail, which would give people an option to riding the shoulders of I-84. While progress has been made — and the project was recently named a top priority by the Oregon Transportation Commission — two major gaps (totaling about 10 miles) remain.
"We're late to the party but now there are a couple hundred people in this town that suddenly have a vested interest."
— Mark Frost
Dittebrandt was riding through one of those gap when she was hit.
Mark Frost, a friend of Dittebrandt's, has started a Facebook Group named Ellen Memorial Connector – Complete the Historic Columbia Gorge HWY. The group's mission is to remember her by "enabling cyclists to ride the Columbia River Gorge safely."
I spoke to Frost on the phone this morning. "I think for us," he said, "We're singularly focused to completing that trail."
Frost described Dittebrandt as someone who had just recently taken up cycling and running and had lost 60 pounds in the last year. This year, he said, "She was like a steam train. She was out there every day. She was crossing things off her bucket list faster than any of us." She had run her first marathon this summer and wanted to do a seven mile swim in the Columbia River. Frost said he warned her about how difficult that swim would be and how she shouldn't do it without kayak support. So instead, she decided to do the Crest-to-Crest bike ride, a 120-mile out-and-back from Rowena to Crown Point.
"She headed out Sunday morning," he recalled, "then jumped onto I-84 at Hood River, then six miles later near Viento… Well, you know what happened."
Now Frost hopes he and others will come together to advocate on her behalf. The plan is to memorialize Dittebrandt by having the final link in the State Trail named after her. "We know it's not going to happen overnight; but if we could move the date up just one year and save one more life it would be worth however much energy and money we could put into it."
Up until this point, the effort to restore the Historic Columbia River Highway rallied around the economic and tourism benefits that would come with a scenic road (much of it open only to biking and walking) that would connect many Gorge communities. Now with this tragedy, there's an added element of urgency.
Jeannette Kloos is a retired Oregon Department of Transportation employee who is now President of the Friends of the Historic Columbia River Highway, a group working with the State of Oregon to complete the project. "This tragedy," Kloos wrote via email yesterday, "highlights the need to complete the Historic Columbia River Highway State Trail."
Kloos estimates they need about $30 million to connect the path's final two sections between Viento State Park and Hood River, and between Wyeth and Starvation Creek. Even with a high-level endorsement from the State of Oregon and a daunting financial figure, Kloos says grassroots advocacy is still important.
"The resolution from OTC [Oregon Transportation Commission] is excellent, but it didn't have any dollars to go along with it. Advocates should continue to remind the OTC to act on that resolution and actually provide funding. We need to keep pushing."
And that's just what Frost and the many people in the Gorge who were touched by Dittebrandt's life and art, plan on doing. "We're late to the party but now there are a couple hundred people in this town that suddenly have a vested interest."
— Join the Ellen Memorial Connector Facebook group to stay updated on their efforts.