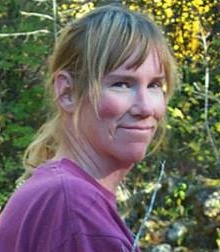 Ellen Dittebrandt.
The death this past Sunday of Ellen Dittebrandt, killed while bicycling on Interstate 84 west of Hood River, has stunned her large community of friends in the Gorge, many of whom are now focused on completing the Historic Columbia River Highway State Trail in her memory.
Dittebrandt's death also comes on the heels of a scary month in Oregon. Just last week we reported that there were four major rear-end collisions in the span of just one week.
This latest collision happened early Sunday morning. According to Oregon State Police investigators, Dittebrandt, a 52-year old volunteer firefighter (named Firefighter of the Year in 2010), artist and triathlete who lived in Mosier, was riding westbound in the shoulder of I-84. Friends say she was training for a triathlon and was riding from Rowena Crest to Crown Point and back.