Two items of cyclocross news to share today: There's a new, weekly race series and a talk by locally-based elite racer Beth Ann Orton.
The big news is the announcement of the Rapha Trophy Cup presented by Western Bikeworks. This new cyclocross race series starts September 2nd and happens every Tuesday night through October 7th. The six race series goes down at Portland International Raceway and adds to our great local tradition of weeknight racing.

The timing of the Trophy Cup is perfect if you're looking to fine-tune your 'cross skills and fitness for the larger, weekend race series that are right around the corner such as the Gran Prix Ryan Trebon or the famous Cross Crusade. And speaking of skill-building, show up to the Trophy Cup early (5:30) each week for a clinic offered by Upper Echelon Fitness and Rehabilitation.
The organizer behind this series is Formation Promotions, the same folks who bring you the Tuesday Night PIR road racing series all summer. And since the Trophy Cup has support from companies like Rapha, Western Bikeworks and SRAM, you know it will be a top-notch event. Learn more and register for a series pass at PDXTrophyCup.com.
The Trophy Cup joins our other excellent weeknight series, the Blind Date at the Dairy (Wednesday nights at Alpenrose Dairy).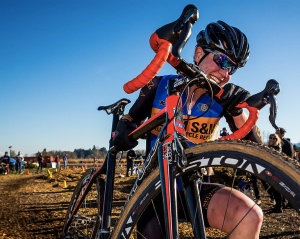 Ann Orton in action.
(Photo: BethAnnOrton.com)
Another event to mark your calendar for is an upcoming talk featuring local elite racer Beth Ann Orton. Orton will lead a discussion about training and preparation for cross season at the Portland Outdoor Indoor Nutrition & Training gym (1115 SE Salmon St.). Orton is a very knowledgeable ambassador of the sport and she has tons of racing cred so this free event should be very helpful to newbies and seasoned vets alike. You can sign up for the talk (8/28 at 7:15 pm) here.
Have fun out there! We hope everyone's cross seasons preparations are coming along nicely.