Posted by Michael Andersen (Contributor) on August 20th, 2014 at 8:54 am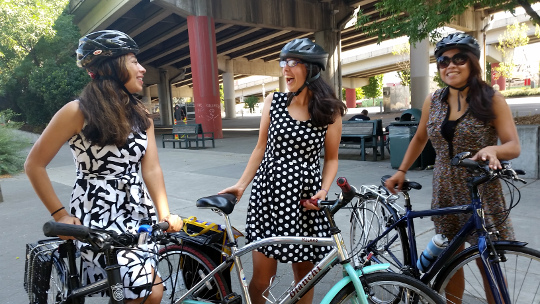 Carolina Iraheta Gonzalez, Lale Santelices and Elizabeth Quiroz get ready for Mujeres en Movimiento's 'Sundress Sunday' ride last weekend.
(Photo: M.Andersen/BikePortland)
A pair of Portlanders have organized a new group aimed at giving Latinas regular events for riding bikes together.
"There is this conversation about, 'People of color don't bike,'" said Lale Santelices, one of the organizers. "But that's not my expericence."
Elizabeth Quiroz, meanwhile, had been hearing from friends and acquaintances that they wanted to ride bikes but didn't seem to get around to it.
So the two, who were already peers in the bike advocacy world — Quiroz is an advocate for the Bicycle Transportation Alliance, Santelices is collaborations manager for the Community Cycling Center — had lunch and started to hatch a plan.
"I had all these crazy ideas," Quiroz said. "Should it be really radical? Should it be low-key?"
"Should we invite men?" Santelices added. "We talked about it for a long time and then we were like, let's set a date."
That was in May. Nine women rode to Sellwood together and they've done a few rides since, most recently a "Sundress Sunday" cruise through inner Southeast last weekend.
The group is called Mujeres en Movimiento, or women in motion. You can follow them on Facebook.
"We always do bike rides for work and they take so much prepping and so much coordination," Santelices said. "This was literally just meeting in a spot, biking to a place, sharing some food, laughing, and then biking back."
"Especially in Portland, people are like, 'Oh no, I'm not a biker,'" Santelices said. "You have to have, like, the perfect shifting technique. [But] it's biking, right? All you need is two wheels and some pedals and a bike that works."