Sandy Ridge is getting more beginner-friendly
with a new section of trail set to open this
weekend.
(Photo by Adam Milnor/BLM)
From where I sit it appears 2014 is poised to be a huge year for mountain biking in Oregon. There's exciting growth and news to report from all over the state. There are many factors for the surge — from a growing momentum for bike tourism development to a successful approach to off-road advocacy that includes collaboration with land managers and a huge amount of volunteer hours and sweat equity.
While high-quality off-road riding options are lacking here in the Portland metro area, advocates have helped create several excellent destinations in Mt. Hood, the Gorge, Vernonia, and beyond.
I've let a few stories pile up in my inbox in the past few months, so now it's time to catch up with all the action in news roundup below…
Mace-toting Couple Arrested for Repeated Harassment of Trail Users at Sandy Ridge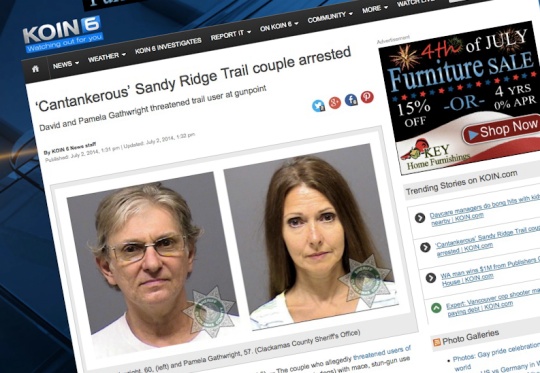 A husband and wife duo that had repeatedly accosted trail users up at Sandy Ridge has been arrested. KOIN-TV has the story of David and Pamela Gathwright who have been formally charged with harassment and animal abuse. We reported about this couple back in March after several readers reported confrontations with a couple that was threatening trail users with mace and other weapons. A week after our story the BLM increased security patrols in the area. It's great to hear they've been caught.
New Beginner Trail Opens at Sandy Ridge on July 4th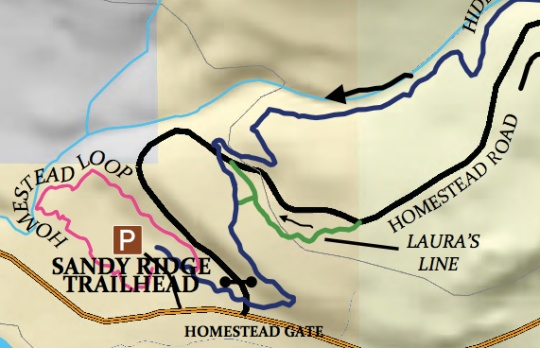 The Sandy Ridge MTB Trail system has simply exploded since it opened in 2010. That year, says the BLM's regional planner Andy Milnor, the area had 10,100 visits. This year they expect up to 120,000 visits. One big reason for the uptick is that Milnor and loads of great volunteers keep adding new trails.
Thanks to a recent grant from the Clackamas County Tourism & Cultural Affairs office, BLM worked with the International Mountain Bicycling Association to re-build the Homestead Loop trail and create a new, 0.25 mile downhill-only "flow" trail called "Laura's Line." Both trails are suited for all ability levels.
"Our goal with this project was to make Sandy Ridge more fun for adults and kids just getting into the sport," said Milnor, "Now, you can head out with your family or a group and everyone can find a trail that works for them."
Make it a family trip this July 4th weekend. More info on Sandy Ridge here.
New Mountain Bike Shop Opens in Northeast Portland
A new shop catering to the sport is a major sign that mountain biking is surging in our region. Hi-5 Bikes (3935 NE Martin Luther King Jr. Blvd) opened just a few weeks ago and they cater specifically to off-roaders who love going downhill. Owner Max Miller says the shop started as an idea: "Bikes that fit better. And reflect where and how we ride. Simply: I wanted thru axles and slack geometry, as well as a true Extra Large." The shop carries complete bikes from Banshee and Transition as well as top-quality frames and parts. And, like any good "gravity shop" they offer quality repair and maintenance services as well. Whether you're looking for a new DJ (dirt jumper) bike to shred at The Lumberyard, a classic Klunker for the neighborhood, or an all-mountain machine to tackle Sandy Ridge and beyond, stop and check out this great new shop!
Volunteers Needed for Local Mountain Bike Patrol Units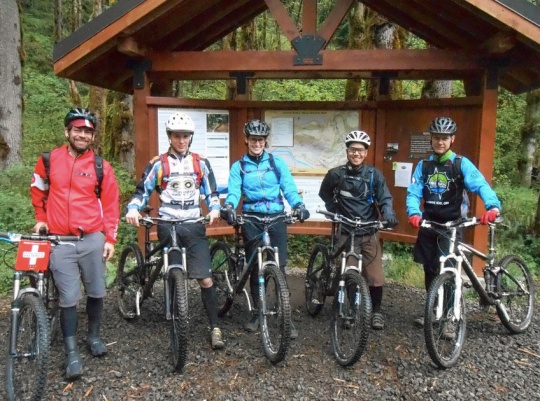 The non-profit NW Trail Alliance has formed a local chapter of the National Mountain Bike Patrol. The idea of the patrols is to help other trail users in need of emergency assistance, educate people about the rules of the trail, work with land managers, and so on. It's a great chance to be an ambassador of the sport. Current patrols exist at Hagg Lake, Stubb Stewart State Park, and Sandy Ridge. There's a minimum commitment needed from volunteers and you'll be riding with patrol leaders. Join up and learn more at NW-Trail.org.
Believe it or not, this is only a sampling of the mountain bike action going on throughout Oregon. For more on recent off-road riding boom, check out this great article published in the Salem Statesmen Journal last month: New mountain bike trails help Oregon find flow, tourism.
Stay tuned for more coverage. Our summer plans include a trip in August to Oakridge for the 10th Anniversary of Mountain Bike Oregon!
If you have questions or feedback about this site or my work, feel free to contact me at @jonathan_maus on Twitter, via email at maus.jonathan@gmail.com, or phone/text at 503-706-8804. Also, if you read and appreciate this site, please become a supporter.