ODOT officials and assorted dignitaries walk across the path alongside the new I-84 bridge over the Sandy River.
(Photo: ODOT)
Things are looking up for bicycle access in Troutdale along I-84 and the Sandy River.

Last week the Oregon Department of Transportation (ODOT) opened the new Sandy River Bridge, a $93 million project that replaced the the I-84 bridges (in both directions) over the river and also repaired the bridges over Jordan Road. Troutdale is the gateway to the Columbia River Gorge and the project has been heralded by state officials as a key part of the region's tourism and recreation strategy.
A big part of that tourism is bicycling, so it's good news that the new eastbound Sandy River Bridge comes with a new bicycling (and walking) path. Currently, connections from the this new bikeway aren't complete but ODOT tells us there are several other nearby projects in the works that could significantly improve riding opportunities in this area.
ODOT Region 1 Transit and Active Transportation Liaison Jessica Horning recently shared this map graphic (you'll have to excuse the hand-written bits) and a few updates on the projects (below):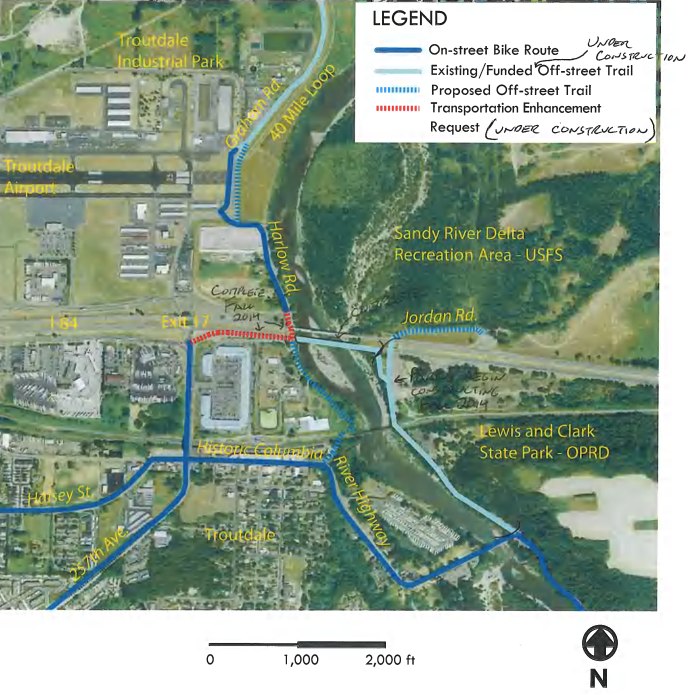 The segments shown in red connecting 257th Ave to the bridge and Harlow Rd (via a ped/bike only undercrossing of I-84) are under construction and scheduled to be completed this Fall.
Oregon Parks & Recreation Dept. will begin construction of the light blue path segments east of the Sandy River this Fall.
We're working on a design for a potential future path connection along Jordan Rd.
The blue dashed line on the west side of the Sandy River will be constructed in conjunction with future redevelopment of this urban renewal area (more info in Troutdale's TSP).
As Horning shared above, that blue dashed line south of I-84 and west of the river appears in Troutdale's Transportation System Plan (updated May 2013). Here's how it looks on the official map (in purple):
Taken together, these bikeway improvements will offer some nice riding opportunities for Troutdale residents as well as some new connections and options for the many people who ride through this area en route to other destinations.
Jonathan Maus is BikePortland's editor, publisher and founder. Contact him at @jonathan_maus on Twitter, via email at maus.jonathan@gmail.com, or phone/text at 503-706-8804. Also, if you read and appreciate this site, please become a supporter.