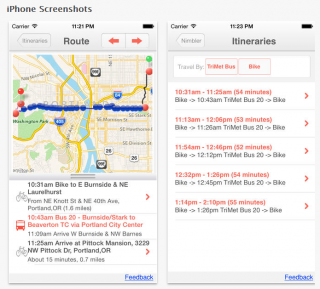 A free app that uses the open-source software behind TriMet's much-heralded Trip Planner has just brought multimodal trip planning to Portland iPhones.
Nimbler, a California-based startup that already has similar apps in place for San Francisco and Washington DC, combines public transit schedules, bike routes and (in other cities) bike share station info to make it easy to combine bike and transit trips.
As we wrote after Nimbler launched in San Francisco last year, this is a job that even Google Maps can't do yet: advising someone traveling from Kenton to Milwaukie, for example, to bring a bike on the Yellow Line so they can quickly connect to the 70 bus at Lloyd Center.
Nimbler's creator, John Canfield, hopes the app will remove a barrier to using the two modes in combination to make low-car transportation more efficient.
"Subway maps are pretty easy to understand," Canfield told us in 2013. "Once you get buses into that, things get a lot more complicated. … When you add bicycle to that, and the bike-bus transit option, there are just so many combinations."
Third-party apps like this are exactly why TriMet, in a project funded by Metro, co-managed by the company behind Streetsblog and contributed to by developers around the world, created the country's first open-source trip planner. That software is already being used in transit planning apps around the world.
When TriMet's Open Trip Planner launched in 2011, local transit-app developer Chris Smith predicted that "within five years a majority of transit agencies in North America will be using variations of it." For whatever reason, that hasn't happened yet. Instead, it seems to be the basis for many new private trip planning solutions like this one.
And speaking of private transportation: if only Nimbler could figure out how to get Nike Bike Share into its system.