There's nothing like a walk to better understand the impact of changes to a street.
(Photo M. Andersen/BikePortland)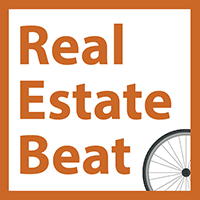 Portland's planning department is trying to figure out if the rapid transformation of Southeast Division Street will become a template or a cautionary tale.
On Wednesday night, it's invited the public to attend a "community walk" to assess the rapidly redeveloping street and "consider zoning issues through a local lens."
The walk is 6:30 to 8:30 p.m., and begins at Piccolo Park, SE 28th and Division. According to the official description, city staffers will ask:
What's working well or not so well regarding new development?
How can zoning code regulations help support a thriving business environment?
What building features, scale, or site designs will enhance the character of the area?
What design features will create a quality environment for future residents?
What are appropriate ways of creating transitions in development scale and activity between mixed use development and adjacent residential areas?
A second, similar walk is planned for Multnomah Village area on Wednesday, June 11, not far from the newly opened Stephens Creek Crossing subsidized apartment development, among other projects.
Relatively large apartment buildings like those that have transformed Division Street — and are starting to transform North Williams Avenue — have attracted critics and defenders for a wide range of reasons.
In April, when we wrote about the large amount of land in central Portland where new apartment buildings are forbidden, some of the rich discussion that followed centered around the fact that the city's strategy has been to focus the pressure for redevelopment alongside the commercial corridors in order to avoid demolishing single-family housing.
The city's next set of rules to regulate those commercial corridors may determine how successful that strategy will be.