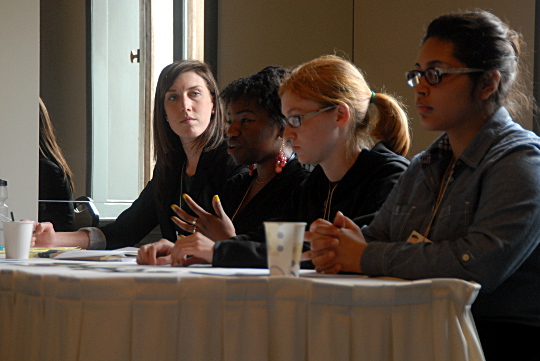 Kelly Hansen of the Community Cycling Center, Nicole Johnson of OPAL, Camille Bales of Grant High School and Adriana Rangel of De La Salle High School at a panel on youth transportation advocacy Monday.
(Photo by M.Andersen/BikePortland)
Few Portlanders rely more on low-car transportation than teens. And as many factors have made car use by young people dramatically less common, some are getting more sophisticated in advocating for better public transit, biking and walking.
A panel on the subject at the Oregon Active Transportation Summit Monday was enough to make city staffer Janis McDonald call herself "embarrassed" on the city's behalf that it isn't doing more to tap youth advocates' opinions and expertise.

"Here we are, planning the City of Portland, and we're not actually taking any ideas from the youth, who are going to use the things we build,"
— Janis McDonald, City of Portland
"Here we are, planning the City of Portland, and we're not actually taking any ideas from the youth, who are going to use the things we build," McDonald told the session, adding that she'd been deeply impressed by a recent trip to the Multnomah Youth Commission.
At the panel, two MYC members, both high school juniors, discussed their advocacy for YouthPass, the endangered program that gives free TriMet passes to most Portland Public Schools students during the school year.
Though she said "I really just bike everywhere" herself, Camille Bales of Grant High School said she focuses mostly on YouthPass because that's not an attractive option for everyone, especially at schools further out than Grant, which is on Northeast 36th at Tillamook.
"It costs more than a lot of people think," she said. "I don't like to wear a backpack while I ride, so I need a bike bag. I need maintenance for my bike. Also, I think learning how to ride, a lot of kids don't have that opportunity any more. … Also, there's no bike lanes, and cars move really fast, so it's really scary."
Bales added that even Grant offers only 14 or 15 covered bike parking spaces, so students have to put up with wet seats if they ride during most of the school year.
Adriana Rangel, of De La Salle High School, said many students don't know how to bike, and many others aren't encouraged to. But for De La Salle, a private college-prep Catholic school at N. Lombard and Interstate, most students are coming from so far away that bikes aren't a realistic option. Rangel said maybe three students arrive at the school by bicycle.
Next month, the MYC and OPAL Environmental Justice Oregon are co-hosting a free, half-day Youth Summit on Transit Justice at David Douglas High School, focusing on YouthPass, how to preserve it for PPS students and expand the benefit to other districts.
Nicole Johnson, OPAL's youth organizer and another person on Monday's panel, was especially eloquent Monday in drawing on her experience growing up in Portland in the 00s to explain the importance of non-car transportation to young people:
This is important to youth, because they can't drive; even if you're 16 you have to pay for a car, you have to pay for insurance. If you don't have transportation, then you can't be actively involved in that community, in that environment.

During summer and after school, I walked home and I sat in my room and read. Because I really couldn't go anywhere else. My mom wouldn't allow me to ride in other folks' cars, because she didn't know if they had insurance. But that cut me off from being independent, from just learning my environment. In the beginning years, I was cut off from a lot of opportunities that I wanted to be involved in.

We don't want that. We want all of our youth to be successful, to reach their potential.
Cases like that were enough for McDonald, who said the city's new Safe Routes to School program for middle schools has been struggling to find adults willing to work with them. McDonald said Monday's panel had given her a new idea: "a focus group of middle schoolers."
Correction 9 pm: An earlier version of the photo caption misspelled Bales' name.