Nico Bella, owner of Portland's only full-service, bike-based florist.
(Photo by Spellbound Flowers)
The love of bicycles in this town is so strong that the number and type of bike-related businesses springing up around it never ceases to inspire us. Yes, it's that time again when we've heard of so many new bikey endeavors that we've got to round them all up in one post.

We could do a separate post on each of the businesses below; but for now, check out these brief profiles to get a sense of what each company has to offer…
Cynergy E-Bikes – 3822 SE Powell Blvd (map)
Rich and Ruthellen Fein moved to Portland recently and wasted no time opening up Cynergy E-Bikes, a new bike retailer serving southeast Portland. Rich says he and his wife are empty-nesters who "want to get people out of their cars" and they believe e-bikes can play a major role in making that happen.
Rich told us they chose Portland because we have, "the infrastructure and a strong following for biking that can breed interest in e-biking."
Cynergy stocks a large selection of e-bikes from brands including iZip (by Currie Tech), BH/Easy Motion and EG
Check out CynergyEbikes.com for more info.
Shift Wellness – 8040 NE Sandy Blvd (map)
Shift Wellness is a new acupuncture and massage clinic in northeast Portland that specifically tailors their services to bicycle riders. Owners Tony Wittinger and Abraham Hawkins love cycling and, according to their website, they've made it their priority to "work directly with the cycling community to advocate for cycling and to provide specifically tailored healthcare to the needs of all cyclists."
Learn more or book an appointment online at ShiftWellnessPDX.com.
Spellbound Flowers/The Petal Pusher Pop-Up – 700 SW Broadway (map)
Spellbound Flowers owner Nico Bella has never learned to drive a car she calls herself the only, full-service bicycle-based florist in the country. She has her Christiania Cargo Trike set up in Pioneer Square (corner of Morrison and Broadway) and she also rides it throughout Portland making deliveries and sales all week.
Next time you need some fresh flowers, stop by Nico's trike and she'll put something beautiful together for you.
Learn more at SpellboundFlowers.com.
Circa Cycles
Rich Fox and Demetri Macrigeanis have teamed up to launch Circa Cycles, Portland's newest bicycle manufacturing company. They say the company — which offers a complete, locally made road bike for under $2,000 — combines the "production efficiency of Ikea the obsessive detail of Apple, and the versatility of Swatch." And it all comes together right here in Portland.
Their flagship is the Mabel frame and fork, an aluminum bike whose name is derived from their "Modular And Bonded Endless Lug micro-manufacturing platform".
Circa has definitely piqued our interest and we plan on meeting Rich and seeing these bikes in person to get the full story. Stay tuned for that, and in the meantime, check out RideCirca.com for more info.
Humans on Bikes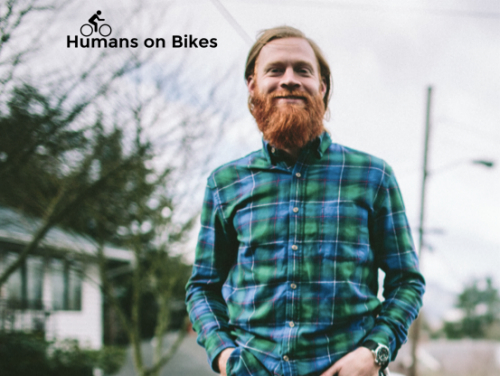 You might have seen Humans on Bikes owner Christopher Delaney in our recent coverage of the National Bike Summit. Christopher isn't just a super-charged bike advocate, he's launched Humans on Bikes to help more people find their way toward becoming confident, everyday bike riders. He's just getting rolling, but after meeting him last week I have a feeling we'll be hearing much more from him in the months and years to come.
You can sign up to learn more about Christopher's services at HumansOnBikes.com.
— Like our local bike business coverage? Browse our business section archives for more stories.