A mockup of one of 12 "Deluxe Overnight Bike Pods" Oregon State Parks wants to build across the state.
Looking to take bicycle tourism to the next level — and to solidify the direct connection between bicycling and economic development — Oregon State Parks wants to create a network of covered bike facilities they say will "redefine the cycling experience." The Oregon Parks and Recreation Department (OPRD) call these facilities "bike pods" and "bike hubs" and if all goes according to plan there will eventually be 19 of them throughout the state, with the first one set for construction this summer.

We first reported on the "Bike Pods of Oregon" project a few weeks ago after OPRD submitted a grant application to ODOT's Connect Oregon program. OPRD is hoping to secure $348,000 from the lottery-backed funding program (the pods project will cost a total of $435,000).
According to the application (PDF), there will be two types of facilities: bike pods and bike hubs. Here's how they describe each one:
"The deluxe overnight 'Bike Pods' will be constructed to serve the long distance touring cyclist, while the day use 'Bike Hubs' will be constructed to best serve the needs of the day use cyclist whether for recreation or cycling."
And here's what they'll look like: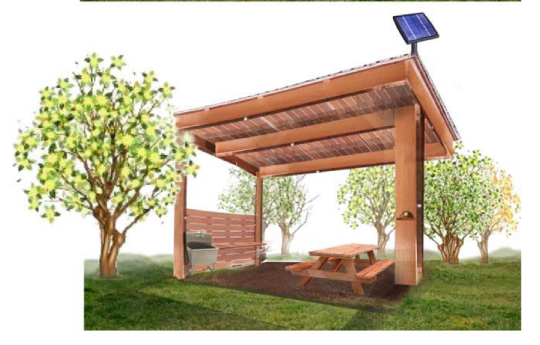 The "deluxe overnight pod".
The "basic overnight pod".
The "day use bike hub".
And they even thought of food storage:
A map included in OPRD's grant application shows plans for 12 deluxe bike pods and 7 basic bike hubs:
Map of bike pods and bike hubs. Note how OPRD will place them on Oregon's premier routes like the Oregon Coast, the Historic Columbia River Highway, the Old West Scenic Bikeway/TransAmerica Trail, the Willamette Valley Scenic Bikeway and the Banks-Vernonia Trail.(Click to enlarge)
The City of Mosier has been a leader in supporting this effort and they appear to be the first city that will receive on the hubs. They've already budgeted for its repair and maintenance in their 2014 budget. A pod at Champoeg State Park is also in advance planning stages.
OPRD says these plans are key to meeting the growing demands of State Parks users who arrive by bicycle. In 2011, an OPRD survey found that 10,221 people used their "hiker-biker" campsites. That number jumped to 11,186 in 2012 and OPRD is preparing for an estimated jump to 20,000 users by 2017.
"This project will cater to the growing number of cycle tourists of various physical abilities in Oregon and bolster local communities' economies via introducing cycle tourists to their towns."
— OPRD grant application
Throughout their application they make a strong case that the rise in bicycle tourism across the state is an important economic engine for both the parks and the communities around them. A recent survey by Travel Oregon showed that bike-related tourism accounts for $400 million of our state's $9 billion tourism industry.
"Additional amenities are essential," says OPRD, "for improving cyclists' experiences on Oregon's roads and trails and to capture the attention of the 43 million Americans who participate in cycling as a form of recreation or travel… 'Bike Pods of Oregon' provides a critical link to this sustainable sector of Oregon's economy"
Oregon sees this program as a way to prop up small towns where the economy needs a boost while remaining competitive as a leader in bicycle tourism. From the application: "Recreational Cycling is part of Oregon's growing tourism industry, an opportunity for struggling communities to capitalize on their locations near stunningly beautiful scenery and public lands."
As you can see in the design mockups, the pods and hubs offer services like bike repair stands, water refill stations, electrical outlets, shelter from the elements, maps, food protection and secure gear lockers. The thinking is, if people (and their stuff) are more comfortable, they'll be more likely to stay in a community longer and ultimately will spend more money and be more likely to tour by bike again.
OPRD's application includes letters of support from Thunder Island Brewing Company (in Cascade Locks) the City of Mosier, the Wasco County Board of Commissioners, a Tillamook County Commissioner, ODOT's Historic Columbia River Highway Advisory Committee, and Cycle Oregon.
Stay tuned: We'll let you if they win this grant.