One of the most important bike-related projects in the city right now is at that wonderful point in its life-cycle where interesting ideas have a chance to take root. But some fear they won't.
The Bureau of Transportation's 20's Bikeway Project will create the only continuous, street-level north-south bikeway in all of Portland, running essentially from the city's southern border to the Columbia River. Though its length means that there are numerous issues involved, the most complicated stretch runs through a much-trafficked "streetcar suburb" on 28th Avenue between SE Stark Street and NE Sandy Boulevard.
The big question for this area is how (or whether) to make the bikeway comfortable enough so that people "8 to 80" years old will want to bike through the popular commercial district, just as the city's Bike Plan for 2030 recommends.
At a stakeholder advisory committee meeting last week, the city laid out the latest possibilities for answering that question. The most interesting part of the plan would create Portland's first two-way protected bike lane on 28th between Wasco, which is north of I-84, and Buxton, which is just north of Glisan.
For the section just south of Sandy, PBOT project manager Rich Newlands suggested a facility that would move bike riders up onto a "Two-way blended ped/bike corridor" for one block (a newly paved area marked in teal below) and then across a painted bike crossing to run at road level for the southern block: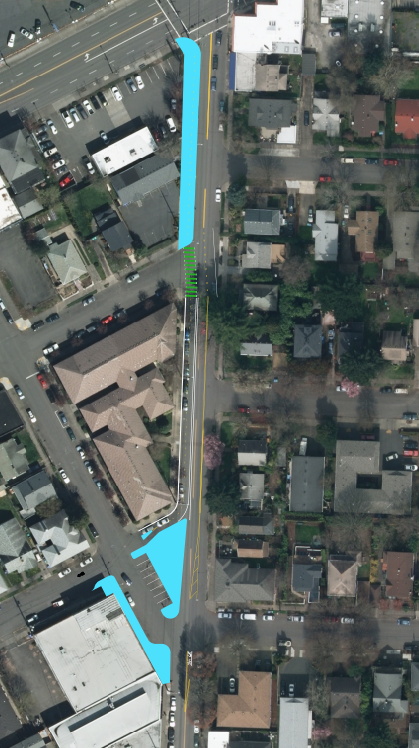 Under one concept, the west side of 28th would have bike lanes in both directions.
Here are cross sections of what each of these two blocks might look like:
Kirk Paulsen, who lives near the north end of the proposed route and serves on its stakeholder advisory committee, said that north of Wasco, the city's latest idea is to direct riders left onto a neighborhood greenway on 26th and/or 27th (the dotted lines are possible greenway routes; the solid line is the existing neighborhood greenway path specified in the 2030 bike plan):
South of Hoyt, Paulsen said, this would require removing one block-face worth of on-street auto parking, some of which would be offset by new parking spaces adjoining a new public plaza area. Paulsen said he fears the city will be unwilling to devote even that much new space to bike access, and will instead try to zig-zag the bikeway southwest on Hoyt to Randall, then southeast to Buxton, then back southwest again. Another option is to move the whole operation east of Oregon Park:
South of Buxton, the debate is whether to invest more of the project's $2.5 million budget in traffic calming on 28th or on getting bikes to cut west of the commercial district to 26th Avenue and across the playground of Da Vinci Middle School:
"Their plan is to just throw down the green-backed sharrows" on 28th, Paulsen said, and let bolder riders mix with traffic on 28th while others stick to the "official" greenway-style route on 26th. "This is just with the understanding that they're not going to touch parking. Assuming that's the case, then the next best thing is to just put it on 26th."
There's not enough room on 28th to create bike lanes in both directions unless the city stops providing on-street auto and bike parking on both sides of the street.
Further south, near the Clinton Street Theater, Paulsen said there's a similar problem: unless one auto parking lane is removed from SE 26th, there's enough room on the street for a buffered bike lane in one direction but not in both directions.
"Obviously a world-class cycling facility would have a buffered bike lane on both sides, because you removed parking."
— Kirk Paulsen, on plans for SE 26th Ave
"Obviously a world-class cycling facility would have a buffered bike lane on both sides, because you removed parking," Paulsen said.
Paulsen, who also has concerns about the connections proposed near the north of the route and thinks 32nd Avenue would be more useful than 27th, said he's already discouraged about his first public process, which he had hoped would be a chance to at least envision a facility that prioritizes walking and biking above driving.
"Already the compromises are being made before they're having to compromise," Paulsen said.
— Learn more about this project on PBOT's website or browse our past articles in the archives. If you'd like to meet Kirk and other local transportation activists to discuss this project, join the Active Right of Way Happy Hour from 5:30-7:00 pm tonight at Tugboat Brewing (711 SW Ankeny).
Updates 12:50 pm: Corrected a couple typos. 2:55: Corrected to say this is the only "street-level" bikeway; the I-205 path is also continuous. Also removed a reference to auto parking on both sides of 26th south of Clinton; it's only on one side during the stretch being discussed.
Michael Andersen was news editor of BikePortland.org from 2013 to 2016 and still pops up occasionally.