PBOT will have to be "creative" if they want to create high quality bicycling conditions on NE/SE 28th as part of their 20's Bikeway Project.
(Photos © J. Maus/BikePortland)
PBOT's Rich Newlands at the Bicycle
Advisory Committee meeting Tuesday.
The Bureau of Transportation is off and running on their effort to plan the 20's Bikeway Project. The project was given the green light a few years ago thanks to a $2.5 million federal grant. On Tuesday, PBOT project manager Rich Newlands presented the latest details with the Bicycle Advisory Committee.
While the grant funds both the planning and implementation of the project, before they break ground Newlands says they need to "better define what the line on the map in the 2030 Bicycle Master Plan really means." In other words, the 20's Bikeway is called out in the BMP, but now's the time when the City needs to make concrete decisions about the route and what type of biking conditions each section will end up with.

"We need to be creative as possible."
— Rich Newlands, PBOT project manager on creating high-quality bikeways through commercial districts
Once completed, this project will (hopefully) provide an absolutely crucial north-south connection that will run just over nine miles from NE Lombard Street all the way down to the Springwater Corridor path. Along the way it will go through 12 neighborhoods, connect to 23 existing east-west bikeways, 12 schools and 14 parks (within a 1/4 mile), and it will cross 17 major arterial roads.
As Newlands puts it, "It's a huge piece of the bike network."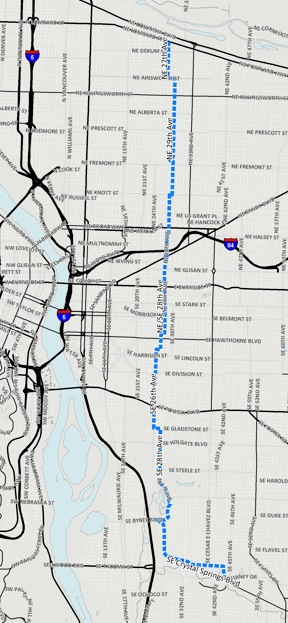 At this point, PBOT and their stakeholder advisory committee (which has only had one meeting so far) have a general sense of the route and Newlands presented their latest thinking about it to the City's Bicycle Advisory Committee on Tuesday night.
Starting in the north end, the route would begin at the traffic signal at NE 27th and Lombard. Then at Ainsworth it would jog east and continue south on NE 29th to NE Broadway. This section is defined by what PBOT classifies as "local service streets" with low auto speeds and volumes. "It's similar to a neighborhood greenway environment," says Newlands.
As the route crosses Broadway, the bicycling environment changes dramatically.
As currently envisioned, the 20's Bikeway would utilize NE/SE 28th from Broadway to just north of Hawthorne. As anyone who has ridden in this area knows, the section between Broadway and Stark has relatively high traffic (average daily volumes are 6,000 to 8,000 cars per day). There's also a dense commercial district between Glisan and Stark that currently has no dedicated bicycling space and a narrow 36-foot wide profile that is used by bike traffic, two lanes of auto parking and two standard travel lanes.
"One of the first issues right out of the box," Newlands said, "is what do we do to get a bike facility on 28th?" That is a big question and it will be interesting to see how this planning process answers it.
Detail of alignment possibilities near major commercial district on 28th.
– Download full version
here
–
Newlands said the City would, "Of course like to do bike lanes," however, with a relatively narrow cross-section, he added that "there are significant trade-offs." Even if PBOT decided to remove the auto parking lane on one side of the street (which Newlands said "would be a heavy lift"), that would leave only enough room for four-foot wide bike lanes — a width that PBOT considers substandard.
Because of the issues on 28th, PBOT is considering alternate routes on either side; but none of the options are ideal. If the route jogged over to 30th, not only would it require out-of-direction travel (a death knell for quality bikeways in our opinion), it would require a tricky crossing of Burnside. To the west, the route would have to use 26th Avenue, but that would be a significant detour.
Another consideration on 28th will be the discussion with business owners. PBOT and their stakeholder committee is already mulling how best to open up a conversation with them. Newlands hinted that, given the current rate of bicycle use on 28th (there are several on-street bike corrals already), many of the businesses, "Might be amenable to some sort of separated bike facility on 28th."
Bike advisory committee vice-chair Ian Stude suggested a two-way bikeway on one side of the street. Another person brought up the idea of a bikeway couplet that would use 28th for one direction and an adjacent side street for the other.
Google view looking south on 26th through
DaVinci Middle School grounds.
One very interesting solution PBOT is looking at would be to take the route directly across the playground of DaVinci Middle School. Newlands said they've already began a conversation with Portland Public Schools about that idea and the talks appear to be headed in a positive direction.
South of Stark, the route would return to a neighborhood street environment. PBOT shows the route staying on 28th all the way to SE Madison where it would then shift to 27th to use an existing traffic signal to cross Hawthorne. South of Hawthorne the route would jog over to 26th where it would connect to existing bike lanes that begin on Woodward and continue (across Powell) all the way to Gladstone. At Gladstone, Newlands says if the route stays on 26th, we'd have a situation similar to 28th where there's a relatively high volume of auto traffic, two lanes of on-street auto parking and a narrow (36-foot wide) cross section.
PBOT's current map shows the route jogging east on the Gladstone bike lanes to 28th where it would continue south and eventually connect to Crystal Springs Road and enter the Springwater Corridor at 45th Ave. Much of this southern section doesn't have bike lanes and to create them (given the width of 28th) PBOT would need to swap the space currently taken by on-street auto parking.
Newlands said repeatedly on Tuesday night that "We need to be as creative as possible" in finding design solutions that result in a design of a high-quality bikeway that can pass muster with politicians, transportation advocates, business owners and neighborhood residents.
So far, it appears PBOT is committed to a direct route that will force important conversations about what our city values most when it comes to mobility. But the process is just starting and it remains to be seen how today's preliminary lines on a map end up after everyone has had their say.
— To learn more about this project, see our post from back in July, stay tuned to the Front Page, and check out PBOT's 20's Bikeway Project website.
Contact Jonathan at @jonathan_maus on Twitter, via email at maus.jonathan@gmail.com, or phone/text at 503-706-8804. Also, if you read and appreciate this site, please become a supporter.