Posted by Jonathan Maus (Publisher/Editor) on July 2nd, 2013 at 10:21 am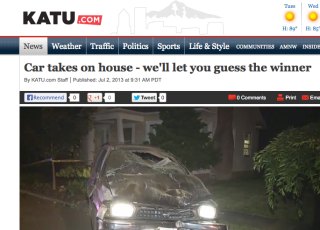 KATU jokes in their headline,
but this is no laughing matter.
The carnage on Portland's streets show no signs of letting up.
In the past 24 hours alone, three people failing to control their cars has led to serious injuries and significant property damage.
At about 8:15 pm last night, the Portland Police reported that two people driving in the intersection of SE 92nd and Foster (map) collided with each other. The driver of a Jeep then rolled his/her vehicle and it went up onto the sidewalk where two people were standing. Both people standing on the sidewalk appear to have been either riding bikes or standing their bikes and both sustained "serious but not believed to be life-threatening injuries." The driver of the Jeep was also injured and taken to the hospital.

We're waiting to hear more details from the Portland Police about this collision and will update the story when we know more.
SE 92nd and Foster is a popular intersection at the heart of Lents. We held a Get Together event at the coffee shop on the corner of the intersection back in 2011. There's also a plaza on the northwest corner of the intersection. It's worth noting that Foster is a designated High Crash Corridor, has the unfortunate nickname of "the Foster Freeway", and it's also currently being redesigned as part of a major streetscape project (which ends west of this collision at 82nd). I rolled down Foster back in January and was disturbed at how dangerous and unpleasant it is.
The location of last night's incident is also just four blocks away from where someone drove their car into former NFL player Joey Harrington while he was riding his bike back in August 2011.
Another case of someone unable to control their car happened early this morning in northeast Portland. KATU reports that, "A sedan collided with a small parked SUV early Tuesday morning before careening into a house near the corner of N.E. Skidmore and N.E. 42nd, damaging both vehicles badly but causing only minor damage to the house."
As I read that story I realized the homeowner was none other than Becky Morton, owner of the Bikeasaurus retail store. Becky, who I just chatted with at her booth at the Multnomah County Bike Fair on Saturday, told KATU:
"I didn't hear any screeching… It was like getting louder and louder, and my bedroom window's right next to the porch where he ran into and so it just sounded like he was gonna crash through my window."
Here's KATU's video coverage:

This is crazy folks. We need to get serious about redesigning our streets and we need new policies to control this carnage, and most importantly, people really need to take the task of driving much more seriously. While PBOT and ODOT remain reluctant to challenge the status quo that puts auto capacity and speed above all else, and people continue to drive without respect for its inherent dangers, innocent Portlanders are being hurt and sometimes killed. This is a crisis. We should treat it like one.
UPDATE, 7/3 at 12:00 pm: The police have cited one of the drivers involved in the Foster Rd collision. See the latest updates below:
Traffic investigators determined that a 2008 Toyota Siena van driven by 65-year-old Nang Nguyen ran the red light northbound on 92nd Avenue and collided with the westbound 1996 Jeep Grand Cherokee driven by 20-year-old Zachery Jones.

After the collision, the Jeep rolled and struck two bicyclists, 56-year-old Stephen Bruce and 31-year-old Jamie Drennen, who were standing on the northwest corner of the intersection, waiting to cross the street.

Both drivers and both bicyclists were transported to Portland hospitals for treatment to non-life-threatening injuries.

Nguyen was given a citation for Failure to Obey a Traffic Control Device. One of the bicyclists, Stephen Bruce, was given a citation for Possession of Methamphetamine, after drugs and paraphernalia were discovered in his possession after the crash.
Jonathan Maus is BikePortland's editor, publisher and founder. Contact him at @jonathan_maus on Twitter, via email at maus.jonathan@gmail.com, or phone/text at 503-706-8804. Also, if you read and appreciate this site, please become a supporter.