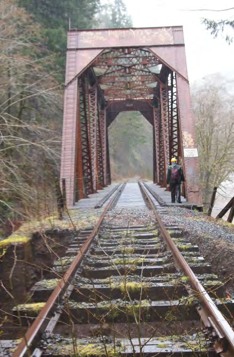 This old rail corridor deep in the Tillamook
Forest will someday be a biking and
walking path.
(Photo: Salmonberry Corridor
Preliminary Feasibility Report)
The third annual Regional Trails Fair will be held tomorrow at Metro headquarters from 1:00 to 3:30 pm. The event will bring together more than 35 trail advocacy organizations and government agencies to share the latest updates on trail projects throughout the Portland region. And there's a lot to talk about!
Did you know there's a major effort underway (with support from Oregon Parks & Recreation) to create a new rail-trail that would connect the town of Banks to Tillamook on the Oregon Coast? The Salmonberry Trail, which won a $100,000 planning grant from Cycle Oregon last year, would allow riders to travel 85 miles through the Tillamook Forest without ever seeing a car.
There's also the recently renamed Ice Age Tonquin Trail which has already been partially built and has ambitious plans to connect Tualatin to Wilsonville via a 22-mile path.
As for more urban trail projects, the North Portland Greenway is in active planning and construction stages and the City of Portland is in line for a state grant that would build the first section of the Sullivan's Gulch Trail.
Those are just a few of the dozens of trail projects in various stages of completion throughout the region. With Metro's Intertwine continuing to gain steam and a new trail funding measure being discussed in the legislature, there has never been more momentum for these projects.
Also scheduled during the event is a presentation from Lake McTighe on how the Regional Active Transportation Plan is creating priority walking and biking routes.