If you care about off-road bicycling in Portland, take note that a very important planning process is getting underway.
Portland Parks & Recreation is seeking members of the public to sit on an advisory committee that will help plan the future of their River View Natural Area. This 146 acre parcel of land, which was acquired by the City of Portland in May 2011, holds great potential for off-road bicycling; but given the politics around trail access issues, it remains to be seen to what extent bikes will be allowed.
While off-road cycling advocates have already invested many volunteer hours helping PP&R clean up the River View site, and locals have ridden bikes on its trails for many years (when it was privately owned), the agency itself is making no promises about the future extent of bike access. It is clear, however, that a new trail system will be developed.
Jon Pheanis, president of the Northwest Trail Alliance, said today that, "I would say the chances of future mountain biking at Riverview are very good, but it's going to require patience and continued support… Mountain bikers have ridden this site for years, and we intend to do what we can to keep it this way."
In a PP&R statement sent out yesterday to recruit members for the committee, they stated that the site is "of significant ecological value" and that future management priorities will be determined "with a science-based approach."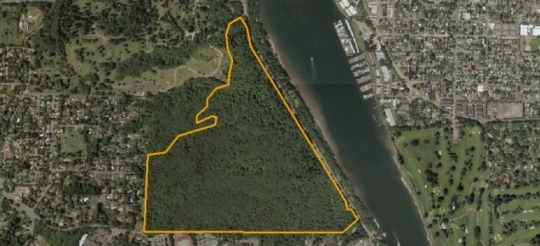 The River View parcel is about six miles south of downtown Portland and is bordered by River View Cemetery (north), Lewis & Clark College (south), Highway 43 (east) and and SW Palatine Hill Rd (west).
(Map: Portland Parks)
While an advisory committee gets up and running PP&R is also working with a team of paid consultants to create a formal management plan. The plan, officially named the Habitat Management, Recreation, & Trail Plan, will attempt to balance public use with a mission to "protect and enhance the natural resources of the RVNA [River View Natural Area]." PP&R lists for main goals for the plan and the committee's role:
directing future management priorities with a science-based approach
protecting core natural areas and identifying enhancement projects
designing a trail system that is compatible with protection of the natural resources
identifying environmental interpretation and research opportunities
The Project Advisory Committee will begin this June and a final plan is expected to go in front of City Council in February 2014. Public open houses are also in the works. Get involved with the committee and/or learn more about this project at PortlandParks.org.