Posted by Jonathan Maus (Publisher/Editor) on August 13th, 2012 at 12:56 pm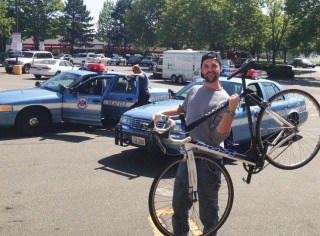 Portlander Jake Gillum poses triumphantly after his
successful police sting in Seattle.
(Photo: Jake Gillum)
It's been a good few days for bike lovers and a bad few days for bike thieves. In the past week I've come across three local bike recovery stories that deserve your attention. Each one of them shows the power of social networks and a community knows how — and cares enough — to use them.
The first is a wild saga six years in the making. As reported last week, Justin Labo, who had his bike stolen from a storage unit in San Francisco, found his bike on Craigslist in Portland. Unfortunately, after trying to contact the seller, the bike was sold and vanished again. A massive social media campaign was launched by Justin's friends and lo and behold, the bike was found on Saturday. The remarkable story of how it all happened has been documented by Jenny Oh Hatfield.
"So what have we learned from this?" she wrote on her blog, "I think most importantly, the biggest takeaway is to never give up; you never know when you may find your stolen bicycle. It may take 4 days or 6 years, but keep the faith."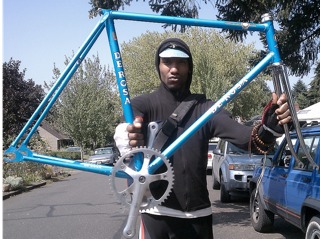 It's back! After six years.
(Photo: Ifanyi Bell)
Our next recovery story is about a bike that was stolen in Portland and recovered yesterday up in Seattle (a trend that might be on the rise). After discovering his bike on a Seattle Craigslist post, Jake Gillum and his friends worked with local police to organize a sting operation. It worked! And the thief not only got a felony; but Jake got his bike back and a cool photo of him and the cops (at top of this story).
Now Jake says he wants to empower other victims to stand up for themselves and get their bikes back too. The guy who stole his bike was caught with two other bikes and Jake is sure they're also stolen. Check out his post on Reddit and view these photos to see if they belong to you.
UPDATE: Jake has just posted the amazing video of him confronting/chasing the thief and then the police arresting him…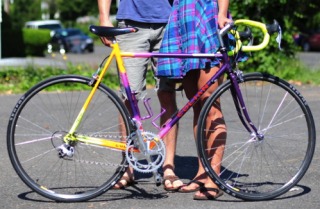 This gorgeous Colian is back with its owners.
(Photo: Johnnie Olivan)
Our last story today comes from our friend and local bike maker Johnnie Olivan of Rejuiced Bikes (profiled on BikePortland last year). His partner, Paige Common (who operates the "Eatin' Alive" bike-based foot cart) had her custom Colian road bike stolen on July 28th. Johnnie, Paige and their friends posted flyers and scanned the Web to see if the unique bike would turn up. It never did; but on Friday they got an email with some great news.
Someone had found the bike hanging from tree limbs on the bluffs off of Willamette Blvd in North Portland. The BikePortland Stolen Bike Listings played a big role in getting this one back. The good samaritan found the bike, went home and Googled, "stolen bike colian" and the BikePortland listing — with Johnnie's contact information — popped up. "I can't believe it's back!" says Johnnie.
—
It's so encouraging to hear that people are getting bikes back. I'll go out on a limb (without any statistics to back me up) and say that Portland recovers more bikes (per capita) than most other cities. We have the three main ingredients necessary for people power to flex its muscle against bike thieves:
People here love their bikes. I mean really love them. So when one's stolen, not only does the victim work hard to get it back; but many others can relate to the pain and are willing to help.
Our community is very active, connected and tech-savvy. We know our way around social media and Craigslist and we happen to have our own Stolen Bike Listings (powered by StolenBicycleRegistry.com, a service created by Portland resident Bryan Hance) that have been in operation since 2005 and they're very prominent in Google search rankings.
We have a respectful and productive relationship with our police bureau. I have heard of and covered many stolen bike recoveries that involve partnerships between victims and our Portland Police Bureau. Officers Joe Santos and Lt. Todd King of the property division especially come to mind.
Nice work everyone. We may not get them all back; but it's good know that at least there's hope.
— For more recovery stories and other coverage of bike theft, check out our archives.