Posted by Jonathan Maus (Publisher/Editor) on April 26th, 2012 at 9:07 am
Security camera photo of thief in action.
-More photos below-
Late Sunday night (4/22), two men broke into the employee bike parking at the New Seasons Market on SE Hawthorne Blvd and made off with three bicycles.
According to store manager Michael Wolff, one of the bikes taken was a custom "cycle truck" cargo bike made by Joseph Ahearne. New Seasons used the bike to deliver meals to seniors through the Loaves & Fishes' Meals on Wheels program. The other missing bike is a Dawes, brushed aluminum fixed gear (Wolff didn't have a description of the third bike taken).
As you can see in the photos accompanying this story, store security cameras have footage of the suspects. Wolff has filed a police report and the PPB is working on the case.
Keep your eyes peeled for these bikes. Here is some more info on the Ahearne cycle truck:
— Serial number S19110 (stamped into the steel under the bottom bracket)
— Had large Ortlieb panniers on it
— Bike has a large box in the front rack with a locked lid
Here are more photos from New Seasons' security cameras: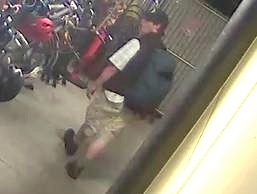 Let's hope the cops and/or the community have some success in tracking these bikes down.
NOTE: I've asked Wolff how the thieves got into the bike parking area to begin with. I'll update this story when I hear back.
UPDATE, 11:17 am: Wolff says that all three bikes stolen were not locked inside the bike parking area. As for how the thieves got in to begin with, Wolff said they hopped a fence from a neighboring property and got into a storage area behind the employee bike parking cage that has a door that is not secured. Once inside, they left through the main bike parking area door, which is locked via a keypad. Wolff says New Seasons will install another locked keypad door in that back area as a result of this break-in.
Jonathan Maus is BikePortland's editor, publisher and founder. Contact him at @jonathan_maus on Twitter, via email at maus.jonathan@gmail.com, or phone/text at 503-706-8804. Also, if you read and appreciate this site, please become a supporter.