Posted by Jonathan Maus (Publisher/Editor) on March 29th, 2012 at 10:20 am
Erosion of the Willamette riverbank has caused damage
to the Springwater path just south of downtown.
(Photo: Chad Berkley)
A downed tree on the banks of the east side of the Willamette River about one mile south OMSI on the Springwater Corridor Trail has damaged the popular multi-use path.
Portland Parks & Recreation spokesman Mark Ross says the "trail failure" was caused by a cottonweed tree that fell earlier this month which led to the soil near the path becoming unstable.
"Trail users are asked to slow down in this area, yield to the slowest traffic, and be considerate of other trail users," says Ross.
The trail and the safety precautions are set to stay in place until the riverbank is stabilized and the trail is repaired. Parks is working with the Bureau of Environmental Services (BES) to figure out how to redesign the bank to make it more stable. A geotech engineer with BES has determined that the existing path is stable and Parks staff are monitoring the path daily for any signs of further erosion.
Here's another image of the damage sent to us by the Parks Bureau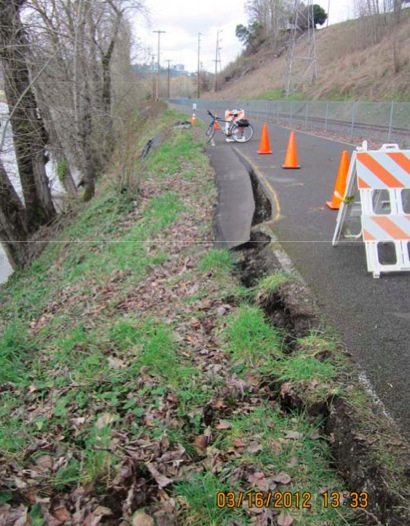 With more rain in the forecast, I don't expect this getting fixed any time soon. Use caution when riding on this portion of the path until further notice and please drop us a line if you notice any developments.