Detail of flyer produced by NWTA.
The Portland-based non-profit Northwest Trail Alliance is scrambling this morning after finding out that a trailer full of trail-building equipment — including a $75,000 tractor for building singeltrack — was stolen last night.
According to the group's president Tom Archer, the trailer was parked in the maintenance yard of Stub Stewart State Park (about 35 miles northwest of Portland near Vernonia). Archer is asking everyone to keep their eyes peeled in hopes that they can track it down.
Please be on the lookout for an 18-foot, enclosed, gray utility trailer with the "Northwest Trail Alliance" black logo and the IMBA logo on both sides of trailer (license plate of U449427).
Here's a closer look at (click to enlarge and share in your networks):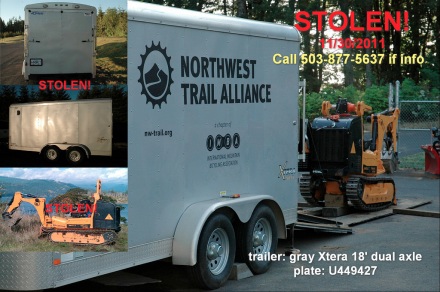 Click to enlarge
The NW Trail Alliance received a grant to purchase the ST240 machine in September 2010 and they've been actively building a network of mountain bike trails at Stub Stewart. Archer says there are only five ST240 machines in existence (they're made nearby in North Plains) and they'll eventually need parts and service.
Please call (503) 877-5637 immediately if you see the trailer or have any information.