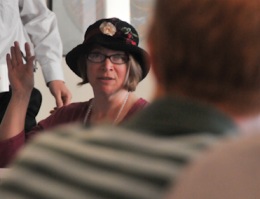 PBOT project manager Ellen Vanderslice
earned praise for her handling of the project.
(Photos © J. Maus)
Major changes on and around the NE 12th Avenue overcrossing of I-84 got a big green light this morning when the project's Stakeholder Advisory Committee voted unanimously to support a proposal by the Portland Bureau of Transportation (PBOT).
The project is one of the three Lloyd District Bikeway Development Projects currently under consideration by PBOT.
This morning's resounding support marked a major shift in opinion about this project among some key stakeholders.
Several months ago, this project faced stiff opposition from the powerful Central Eastside Industrial Council and from Franz Bakery and Portland Bottling Company — two freight-intensive businesses that rely on 12th Ave. for access to I-84.
David Lorati of the Central Eastside
Industrial Council makes a point with
business owners Vic Alfonso (L)
Tom Keenan by his side.
The CEIC's president David Lorati wrote a letter to PBOT in April objecting to their proposed changes on NE 12th, saying they would "restrict" truck and auto capacity and would "alienate the economic pillars of our community."
Also in April, concerns from Franz Bakery and Portland Bottling Company were featured in a guest opinion column, "Freighted with skepticism," that was published on OregonLive.com.
By mid-June a straw poll of the committee gave tentative approval of the plans, but significant concerns remained.
However, thanks to the work of PBOT project manager Ellen Vanderslice, PBOT Director Tom Miller, and others, the tone of the CEIC and other stakeholders has changed. Lorati now applauds PBOT and says he feels confident their proposal will work. Joining Lorati in this reversal from opposition to support (and even praise) are Vic Alfonso, owner of Vic Alfonso Hummer dealership; Franz Bakery general manager Jim Kennison; and Tom Keenan, president of Portland Bottling Company (both of whom had concerns about truck access).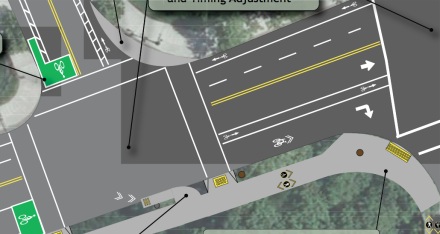 Detail of PBOT proposed changes north of the overcrossing at NE 11th and Lloyd.
– Download the full proposal
here
(PDF) –
When asked how they feel about the changes proposed for 12th Avenue this morning, Lorati said,
"Very early on with [PBOT Director] Tom Miller we gave some sincere advice, 'You better go talk to some businesses and make sure this project takes into consideration their needs'. You've done that. What we're hearing is that you've been responsive to businesses."
While Lorati maintained that "to restrict capacity [on 12th] it could limit long term economic growth on the eastside," Lorati acknowledged that "the bicycle community wants changes" and then added to PBOT project staff, "You guys have done a really good job."
Tom Keenan from Portland Bottling Company says he's noticed the myriad signal timing changes and adjustments PBOT has already implemented to improve traffic flow on 12th. "I'm very pleased with what's been done… Ellen [Vanderslice, PBOT project manager] has been very gracious… and I appreciate the effort made to make this work as well as it can."
Jim Kennison, general manager
of Franz Bakery supports the project.
Piling on the praise of PBOT and this project was Franz Bakery general manager Jim Kennison. He wanted to point out how grateful he was that Vanderslice and Tom Miller joined him for a ride-along in a triple trailer to see the road from a new perspective. In exchange, he shared, PBOT asked him to go on a two-hour bike ride. "It was actually pretty interesting," Kennison said with a smile.
"We were adamantly against this in the beginning," Kennison added, "but Ellen Peter [Koonce, signal division manager at PBOT] and Tom Miller came to the bakery and met us many times and listened to our concerns… We had doubts at the beginning, but she has proved to us this can work."
I have to admit it was a pretty eye-opening experience for me to hear this going on. Vanderslice sat there beaming as this praise came in. She deserves it. While many people (myself included) would have been frustrated and impatient with the "demands" of the business interests, Vanderslice remained cool and open to their concerns throughout all the meetings I attended. Her strategy paid off. She now has not only a project that has unanimous support from the SAC, she has the gratitude and appreciation from the Lloyd District and prominent Central Eastside business interests.
Proposal for the north end
of the overcrossing at NE Lloyd.
The final motion that passed this morning was to accept the proposal as presented with the alternate bike lane approach at the northbound 12th and Lloyd intersection, to take make sure the proposed bike box on NE 11th southbound at Lloyd is necessary and to make the left turn box at NE Irving larger.
The proposed changes to NE 12th are significant. It will go from a standard, four-lane cross sections (with no dedicated bike space) to three standard lanes and a bike-only lane.
In the northbound direction, a new seven-foot bike lane will be installed. At the intersection with NE Lloyd, the bike lane will be be directed (via green caution paint) in between two standard turn lane lanes.
Southbound, people on bikes will have two options; to share the 10-foot sidewalk with walking traffic or to use the main roadway. On the roadway, sharrows will be installed on both southbound lanes. Signage (similar to what's on the Hawthorne Bridge) will be added to the sidewalk to separate biking and walking traffic.
There are many other tweaks and changes coming as part of this project. You can view them all via this PDF of the proposal that passed the SAC this morning.
As for when these changes will be implemented, that remains to be seen. It's unclear how much money is left in the project to do all the work and PBOT has yet to release a specific time table. I'll update this story when I find out that information.
— As I reported yesterday, the NE Holladay Street project was also discussed at this meeting. I'll share updates on that project in a separate post.