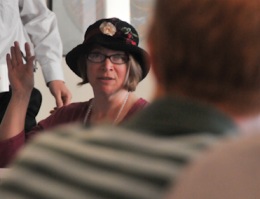 PBOT project manager Ellen Vanderslice
earned praise for her handling of the project.
(Photos © J. Maus)
Major changes on and around the NE 12th Avenue overcrossing of I-84 got a big green light this morning when the project's Stakeholder Advisory Committee voted unanimously to support a proposal by the Portland Bureau of Transportation (PBOT).
The project is one of the three Lloyd District Bikeway Development Projects currently under consideration by PBOT.
This morning's resounding support marked a major shift in opinion about this project among some key stakeholders.