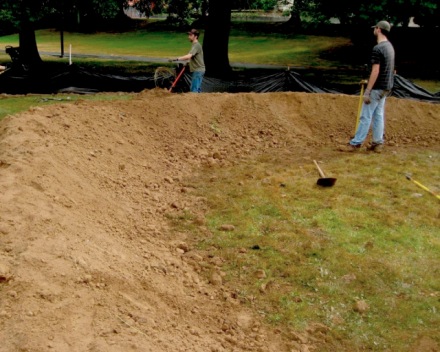 Berm taking shape at Ventura Park Pump Track.
(Photos: Tom Archer)
Volunteers organized by the Northwest Trail Alliance have already put in many hours of work over this past week to shape and create a new pump track at Ventura Park in East Portland. The project will be our city's first such facility and the NWTA has officially partnered with the Portland Parks & Recreation to make it happen.
With the initial layout work completed, the NWTA now needs more volunteers. They've invited the public to join them for a work party and meet-and-greet event this Friday from 4:00 – 8:00 pm.
"Bring a shovel, wheelbarrow, or just some muscle and be a part of this "ground breaking" project!" says the NWTA's website.
Ventura Park Pump Track Meet-and-Greet and Work Party
Friday, 9/23 from 4:00 – 8:00 pm
Ventura Park (SE 115th and Stark)
More info here
This is an important step for Portland. Let's make it great!
If you have questions or feedback about this site or my work, feel free to contact me at @jonathan_maus on Twitter, via email at maus.jonathan@gmail.com, or phone/text at 503-706-8804. Also, if you read and appreciate this site, please become a supporter.