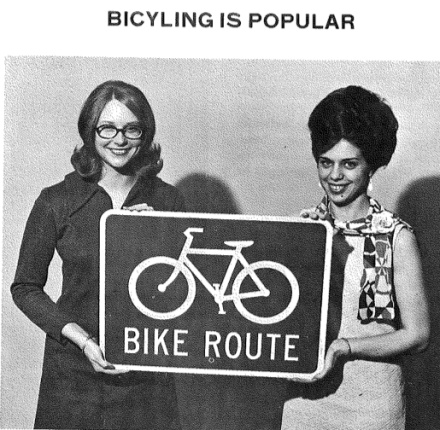 Employees of the Oregon State Highway Division appear in a 1972 article about bicycling's rise in popularity. See below for images from Oregon newspapers from as far back as 1899.
As we've delved into several times here on BikePortland — from T.T. Geer, Oregon's "bicycling governor" from 1899 – 1903, to Mr. Bemer Pague, Oregon's first bike advocate — Oregon has a long and proud bike history.
In recent weeks readers have sent in two more excellent examples of history that I'm excited to share.
The first comes from an article titled, Bicycling is Popular that ran in an issue of Personnel Oberservations, a publication of the Oregon State Highway Division (PDF here).
The article documents a rise in bike riding by ODOT employees. Check out the amazing shot of the bike racks outside ODOT offices in Salem (I think more people rode back then than today!):
The article also contains some great passages:
"Bicycle riding can contribute to the fulfillment of body exercise and does not add to the pollution problem."
"On a clear, warm, sunny day, it seems as if everyone has a bicycle and is riding it."
"If the bicycle revolution continues we will undoubtedly observe other racks at office locations around the state."
The next look into Oregon bike history comes via a blog post from the Oregon Digital Newspaper Program. Jason Stone delved into newspaper archives and found several gems, which he shares along with a cogent and well-written history of bicycling and how it was covered in Oregon newspapers.
Here's an image of famous racing champion Howard B Freeman that ran in The Oregonian on August 26th, 1900…
Check out the ad playing on the "bicycle craze" that R.M. Wade Co ran in the Salem Daily Capital Journal on April 21, 1899…
And my favorite, a fashion review and some advice for women who fancy bicycling. First the text that ran in the "Pretty Bicycle Blouses" article published in the Sunday Oregonian on May 20, 1900.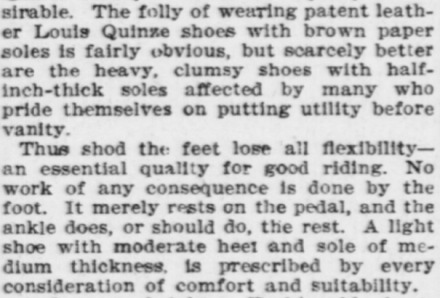 And the illustration that accompanied the article…
If you're a bike history buff I highly recommend taking a look at Jason Stone's entire blog post.
For more about bicycling history in Oregon (and beyond), browse the "history" tag in the BikePortland archives.
If you have questions or feedback about this site or my work, feel free to contact me at @jonathan_maus on Twitter, via email at maus.jonathan@gmail.com, or phone/text at 503-706-8804. Also, if you read and appreciate this site, please become a supporter.