Portland Parks & Recreation has given local off-road biking advocates official word that the Ventura Park Pump Track project will move forward. The project will be Portland's first official pump track and it will be managed in a partnership between Portland Parks Bureau and local non-profit group, the Northwest Trail Alliance.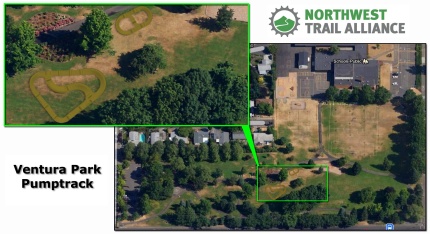 It's coming!
Parks hosted a public demonstration of the pump track at the park on April 9th as a final step to make sure the concept would be welcomed by the Hazelwood Neighborhood Association. On Tuesday, Parks staffer on the project, Sarah Coates Huggins emailed stakeholders with the good news that, after receiving positive feedback from the community and the neighborhood association, the project could move forward.
Final details on the pump track and a public announcement are expected soon. Source say construction of the pump track could start as soon as June if the permit process goes smoothly.
If you're not up to speed on pump tracks, the idea is a relatively small track with a mixture of roller bumps and banked corners (berms) that are meant to be ridden without pedaling. There can also be small jumps and other features. At Ventura Park, there will be areas for all skill levels, including young kids.
Ventura Park is a seven acre park located at SE 115th Ave and Stark Street.
Stay tuned for more details and an official announcement. For now… Way to go Northwest Trail Alliance and Portland Parks. A great partnership and a project I hope we see replicated in other parks throughout the city.