So much cool bike stuff goes on every weekend here in the Portland region that I thought a quick recap would be one way to share some of it.
Cherry Blossom Road Race
A lot of Portlanders competed at the first big road stage race of the year. The Cherry Blossom took place out on the wide open and sunny roads of The Dalles. The photo below is by Kenji Sugahara (see fully gallery here):
Portland Design Works Party
Our friends at Portland Design Works hosted a party to celebrate their successful move from Southeast to North Portland. Not surpisingly, the Circulus mini-drome was the center of attention. David "BikeRanger" Haines snapped the photo below of Ira Ryan giving it a go:
"Vice" Tweed Ride
"Vice" was the theme of the second Portland Tweed Ride this year. There was burlesque, partying, and much more. Check the great image below, made once again by David Haines: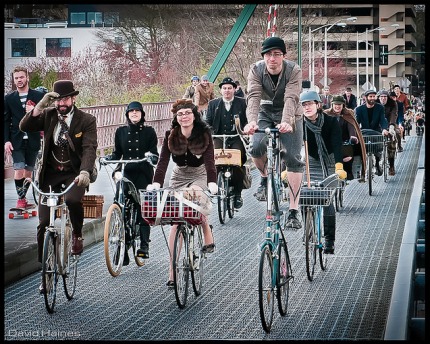 Cycle Wild Bike Camping Trip
Our friends at Cycle Wild braved topsy-turvy weather to head out for an overnighter near Vernonia. Ride leader Matt Picio shared the image below of the group on a country road (see more of images of the trip here):
Burnt Bridge Creek Ride
A group of folks met in North Portland and ventured up into Vancouver for an exploration of Burnt Bridge Creek. The photo below is by Ted Beuhler: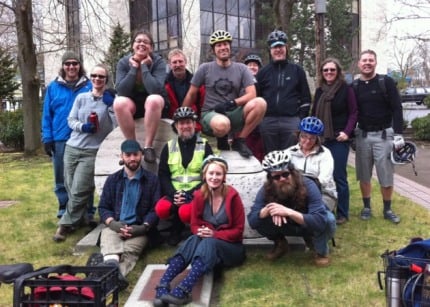 Bike to Blazers
This year's Bike to Blazers felt a bit different. The feedback I got was that next year folks would like to see more activities and a chance to rally up (like last year). We'll keep working with the Blazers to improve the event. Despite that, we had a great time and saw a playoff-primed Blazer team come away with a nice win. Thanks everyone for coming out! Check out flatlander Blake Hicks entertaining us pre-game at the Rose Garden:
If you're kicking yourself for missing all this fun, stay tuned to BikePortland and our our Twitter feed for event announcements throughout the week and watch for our Weekend Event Guide post.