After several years of design, planning, and promises, the City of Portland says budget concerns might shelve plans for a bridge over Columbia Boulevard in St. Johns. Instead of a bridge over the wide arterial where large freight trucks rumble along at 40-50 mph, the Portland Parks & Recreation bureau has recommended to Parks Commissioner Dan Ryan that they should move forward with an at-grade crossing.
This decision has riled advocates who see the bridge as a key part of their visions and say they've been kept in the dark about its potential demise.
The bridge project has been planned since 2014 as part of the North Portland Greenway project and is a key link in the 40 Mile Loop. The bridge would take people from an existing paved path in Chimney Park, across Columbia Blvd, and onto another piece of path that would ultimately connect to Kelley Point Park, the lakes at Smith & Bybee Wetlands, and beyond.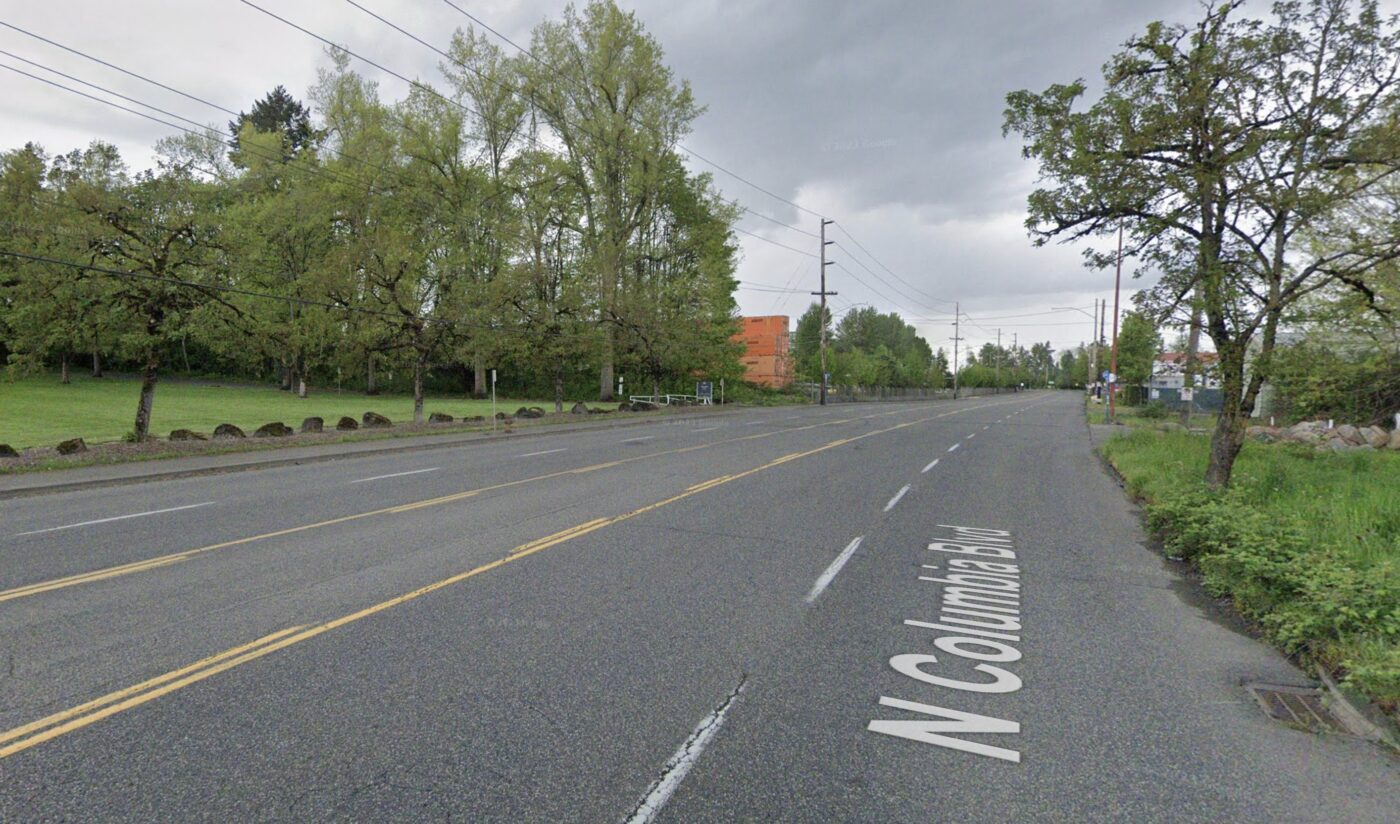 A strong partnership between the City of Portland, Metro, and the Oregon Department of Transportation has come up with over $9.5 million allocated toward the bridge project so far. As recently as Spring of 2020, Portland Parks & Recreation held an open house for the project where they showed renderings of the bridge based on 30% design plans.
But now, PP&R says they don't have enough money to complete the project and are recommending an at-grade crossing instead of a bridge over Columbia Blvd.
"NP Greenway and 40 Mile Loop have been strung along for years on this project, supporting multiple rounds of funding for the bridge," said one advocate who reached out to BikePortland to share this news. "PP&R has not been transparent at all on this project. A bridge is called for in the original trail master plan and there's been no public outreach from PP&R about change of plans."
According to a project briefing prepared for Commissioner Ryan, the funding problem stems primarily from an ODOT consultant on the project, engineering and design firm KPFF, who wants to revise their contract upward to the tune of $938,129. PP&R says when that amount is added to other expected costs, the project will end up with a price tag of $11.5 to $15.5 million — leaving them $2-6 million short with, "no currently identified funding sources to bridge the gap."
Pending negotiations around an intergovernmental agreement (IGA) between Metro (who's currently managing the project), ODOT, and PP&R seek to give PP&R sole responsibility for the project. That means, if the project moved forward with the bridge and it no other funding was identified, the City of Portland would be left alone holding the bag.
In the briefing for Commissioner Ryan, PP&R staff lay out three options: move forward with an at-grade crossing, continue with the bridge plan, or do nothing. PP&R staff recommend the at-grade crossing because they say it will allow the project to move forward within its existing budget. But even if that option moves forward, PP&R says it comes with several risks. Among them? "The Port [of Portland] freight community may push back due to impacts to traffic flow in this industrial area," and "The general public could be disappointed at not getting a bridge."
Construction on the bridge was expected to start next year.
Ultimately Ryan will have final say on which position the bureau takes and the issue will be discussed at a city council meeting soon. I've reached out to PP&R and Ryan's office for comment and will update this post when I hear back. I've also heard that the boards of NP Greenway and 40 Mile Loop will hold emergency meetings to discuss the issue. Stay tuned.
---
UPDATE, 4:19: Commissioner Dan Ryan and Parks Director Adena Long strongly support the bridge and are actively appealing to Metro to find funding. Below is a comment Commissioner Ryan's office sent to BikePortland:
"I wholeheartedly believe there needs to  be a bridge over Columbia Boulevard connecting Chimney Park with St. John's Prairie.  I will be requesting that Metro Council fully fund this project to ensure safe pedestrian and bicycle crossing while maintaining the flow of traffic on Columbia Boulevard."
UPDATE, 11/10 at 2:00 pm: NPGreenway, a nonprofit working to realize a riverfront path between the Eastbank Esplanade to Kelley Point Park, has released the following statement:
"We're very unhappy that this bridge is being scuttled after many years of commitment from local government agencies. The bike and pedestrian bridge across North Columbia Boulevard would be a significant link on the 10-plus mile North Portland Willamette Greenway Trail, that is, in turn, a critical part of the 40-Mile Loop.


Despite promises to the public, PP&R has slow walked the Columbia Blvd Bridge for years, going back for additional funds each funding cycle, in total acquiring $9.5 million dollars. Since 2014, at least a half million dollars has been spent on design and engineering for the bridge.

Columbia Blvd is a busy freight route and PP&R's proposal to replace the bridge with an at-grade crossing is dangerous for people and inefficient for truck traffic. It's frightening to think of a mom or dad pushing a stroller across a 4-lane road with semi-trucks barreling along at 45
mile per hour.


We appreciate the recent announcement by Commissioner Ryan and PP&R Director Long that they support the bridge and are searching for additional funds. After so many delays North Portland residents and other future trail users deserve to have construction begin in 2024."