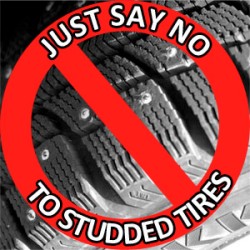 Just say no.
(Graphic: BanStuddedTires.com)
Today is November 1st, the first official day of studded tire season in Oregon. Back in March we shared why people who ride bikes should care that studded tires do $50-60 million in road damage each year and we also shared that one man was committed to putting a stop to it.
Portland citizen activist Jeff Bernards and a group of volunteers want to ban studded tires in Oregon through a ballot initiative that would be filed in 2012. I checked in with Bernards today to see how things are going.
Jeff Bernards.
(Photo © J. Maus)
As you can see on BanStuddedTires.com, the effort is still moving forward in earnest. In July, Bernards and volunteers completed a draft of the initiative language. At the end of September, Bernards made a trip to Salem to meet with the state's Legislative Council (they write language for new laws) to make a few tweaks to the draft. With the onset of studded tire season, Bernards is also working on an op-ed he hopes to publish in The Oregonian this week.
High on Bernards' list right now is to find someone to help him with strategic planning moving forward. He admits that putting an initiative on the ballot is a major task, but he's committed to seeing this effort through.
"It's almost bigger than me… It's a huge project. Giving out lights was easier! But the more I learn the more I'm convinced what an important an issue this is, especially considering the budget crisis Oregon is facing."
Besides the cost-savings the state would save by not having to repair roads as frequently, Bernards calls studded tires "outdated technology." He points out that even ODOT has stopped using them on their fleet of service vehicles.
For Bernards, the issue is simple. Damage caused by studded tires is a waste of money. "I'm doing this because we need teachers not studded tires… This is the opportunity to show the taxpayers that there's no free choice in choosing to use studded tires that cost all of us."
Learn more at BanStuddedTires.com.