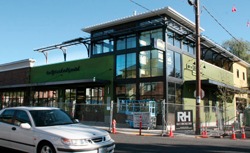 New location on SE 40th and Hawthorne.
(Photo: New Seasons)
Local grocery store chain New Seasons Market will open its tenth store tomorrow on the corner of SE 40th and Hawthorne (former location of Daily Grind), smack-dab in one of the most bike-centric parts of town. According to a press release sent out by the company today, the new store has some pretty serious bike-friendly credentials.
The biggest thing that jumped out at me was that the store will have more space for parking bikes (50) than cars (36). According to New Seasons, the store's small footprint and central location "inspired us to pilot unique transportation options for customers and employees." In addition to the bike-heavy parking ratio, the new store will offer grocery delivery by bike, a patch kit and air available free to customers, and hand carts and wagons to walk your groceries home (or creatively pull them on your bike).
The new store's march toward bike-sensitivity became very apparent a year ago. Back in October 2009, the BTA reported that they adjusted the design of the store so it did not negatively impact an adjacent bike boulevard. The decision had to do with where they would put the access ramp motor vehicles take to get onto the rooftop parking lot. According to the BTA:
"In the original design, the ramp entrance to the parking lot was located on SE 41st Avenue, and the receiving door for freight and delivery trucks was on the opposite side of the store on SE 40th. The BTA and neighbors, once we heard about the plans, became concerned that car traffic into and out of the parking garage might use the SE 41st bicycle boulevard, even taking it to reach SW Taylor or SE Lincoln streets to get to SE 39th Ave (Taylor and Lincoln are also bicycle boulevards)…

Staff from the Portland Bureau of Transportation and the BTA, as well as many SE 41st neighbors, agreed that flipping the design and placing the parking garage ramp on SE 40th and the truck receiving area on SE 41st would be best to maintain an existing safe bike route and to maintain traffic flow on Hawthorne. The independent traffic report supports that conclusion: "SE 41st Avenue… should be operated to encourage bicycle travel and discourage vehicle travel.""
How's that for a bike-friendly business!?