I noticed a flyer on NE 37th yesterday advertising yet another bike-related business that has cropped up in Portland recently…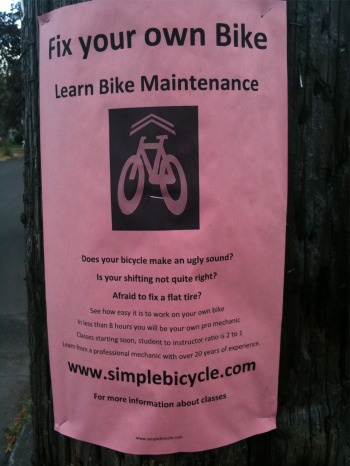 Flyer spotted on NE 37th.
According to the SimpleBicycle.com website, this is a new business run by local racer and professional mechanic Jason Pfiefer. He's offering a 4-week bike maintenance course for $300. Classes are limited to two people at a time. Sounds like a good deal, given what an expert Pfiefer is. Here's a snip from his website on his qualifications:
Learn personally from Jason who is a registered Category 2 professional mechanic with USA Cycling (there are less than 15 in the nation at that level of skill and ability). He has worked in bicycle shops for over 23 years, and spent almost 10 years working as a professional mechanic with Shimano America as a mechanic for professional road races.
Learn more about Pfeifer and the classes and services he offers at Simplebicycle.com.