Posted by Jonathan Maus (Publisher/Editor) on June 2nd, 2010 at 10:42 am
Multnomah County will celebrate the completion of improvements to NE 223rd Avenue in Fairview (12 miles east of downtown Portland) today. The $7 million project replaced a railroad bridge that crossed over NE 223rd near I-84 and it also widened the road under the bridge.
NE 223rd is a link to the bike path on Marine Drive and recreation opportunities at Blue Lake Park, but prior to this project it was extremely narrow. The project widened the existing lanes and added bike lanes and sidewalks. You can get a good sense for how much more inviting this road is now by looking at the before and after photos below…
Before.
(Photos: Multnomah County)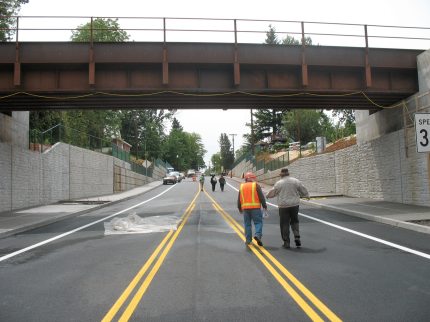 After.
(Photos: Multnomah County)
See MultCo.us for more information on this project and today's celebration event.