Last week, Metro Council approved funding for the South Waterfront Transportation Management Association (TMA). The new TMA will be funded to the tune of $300,000 (half from Metro, other half matched by neighborhood businesses and residents of the area) over three years and is set to begin work on July 1st. Other supporters of the new TMA are developers, the City of Portland, the Portland Development Commission, and Oregon Health Sciences University (OHSU).
TMAs are non-profit, public/private partnerships funded through the federal government's CMAQ (Congestion Management/Air Quality) grant program and administered through Metro's Regional Travel Options program. The idea behind them is to increase awareness and promote the use of biking, walking, ridesharing, and taking transit. Or put more simply, discourage single-occupancy vehicle use.

This will be the sixth TMA in our region and the first one created since 2001. Other TMAs currently exist for the Lloyd District, Clackamas, Swan Island, Gresham, and Washington County.
In a statement about the new South Waterfront TMA, Portland Mayor Sam Adams said it will "help residents and businesses with transportation choices so congestion and pollution don't jeopardize the potential of the district."
According to Metro, the new TMA already has a list of projects it hopes to get started on. Among them are increasing bike parking (which a recent report showed can be good for neighborhoods and businesses) and working with the City and other stakeholders on the Milwaukie Light Rail and Lake Oswego Streetcar projects.
A recent survey of South Waterfront residents compiled by the City of Portland showed that 83% of respondents (86 people took the survey) make at least 3 trips into downtown (about two miles north) from their condos each week. Below are results from that survey when asked how they get there:
What is your primary mode utilized for accessing downtown & Central City?
(Notice that no one who took the survey rides a bike!)
What is your secondary mode utilized to access downtown & Central City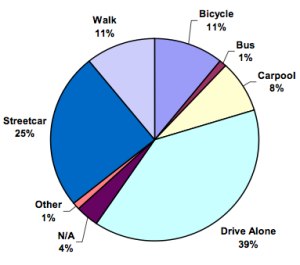 If all goes well, the TMA hopes to decrease vehicle miles traveled in the district by 30% by 2030 (as per Portland's Climate Action Plan and myriad other city and regional plans). It will be interesting to see if those percentages in the charts above change after the TMA has been in operation a few years.